Basketry Museum in Morkovice
A charming local museum exhibiting a wide variety of basketry woven by local craftspeople in many different forms and styles.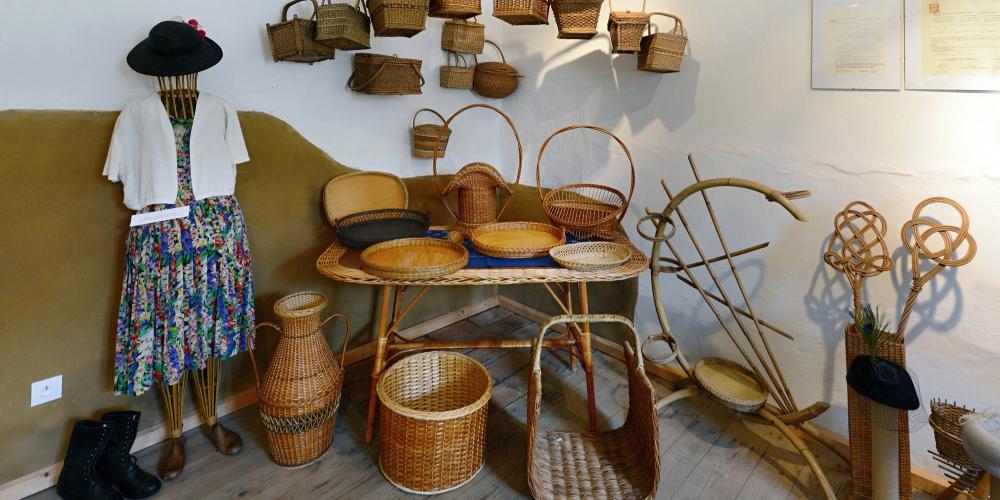 After the Morkovice Regional Museum was closed in 1963 and much of its collection was moved to the museum in Kroměříž, Morkovice-Slížany's went for many years without its own museum to showcase its local culture and traditions. But in 2008 the town decided to revive its museum, and purchased a house in Morkovice, and after an extensive reconstruction established the specialised Basketry Museum, which opened in 2010. Thus, after long 47 years, Morkovice-Slížany again had its very own cultural institution, this time focusing solely on basketry and all the related crafts.
The museum is located in one of the oldest and best preserved houses, across from the location of the original museum. The current museum pays tribute and showcases to all the basket-making craftspeople from the municipality and the surrounding villages, who wove and still weave the finest baskets in the world. The exhibits at the museum were kindly loaned by: Museum of the Kroměříž Region, citizens of Morkovice-Slížany, and from other places near and far.
Visit
Basketry Museum in Morkovice
Hours
Tuesday – Friday: 10:00 – 16:00;
Saturday + Sunday + public holidays: 13:00 – 17:00.
Monday closed.
*The opening hours are indicative and must be called in advance.
Pricing
30 CZK;
family admission: 90 CZK (2 adults and unlimited children under 18 years)