Best of Turkmenistan and Uzbekistan
Try the best that Uzbekistan and Turkmenistan have to offer in this classic but well-designed itinerary. The tour will take you through the main Silk Road stops in both countries and it is guaranteed that you will leave this journey with much more knowledge than when you started.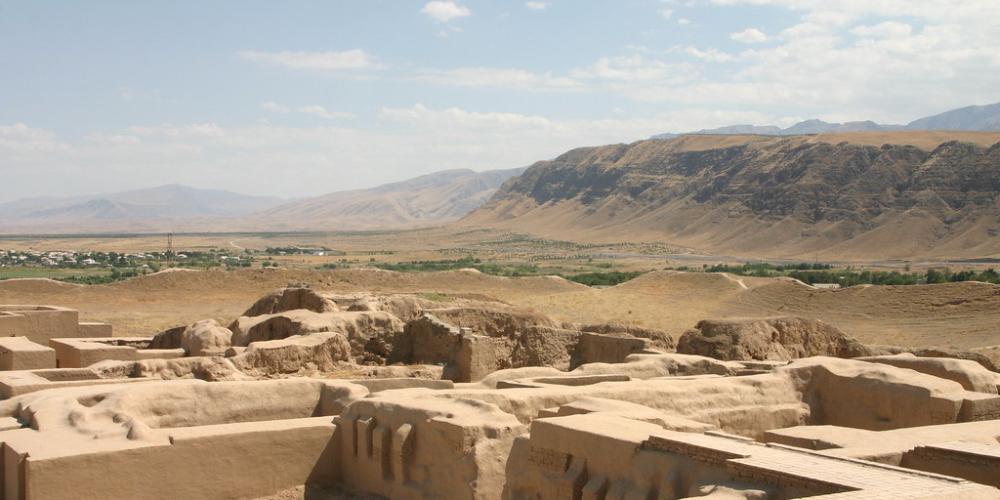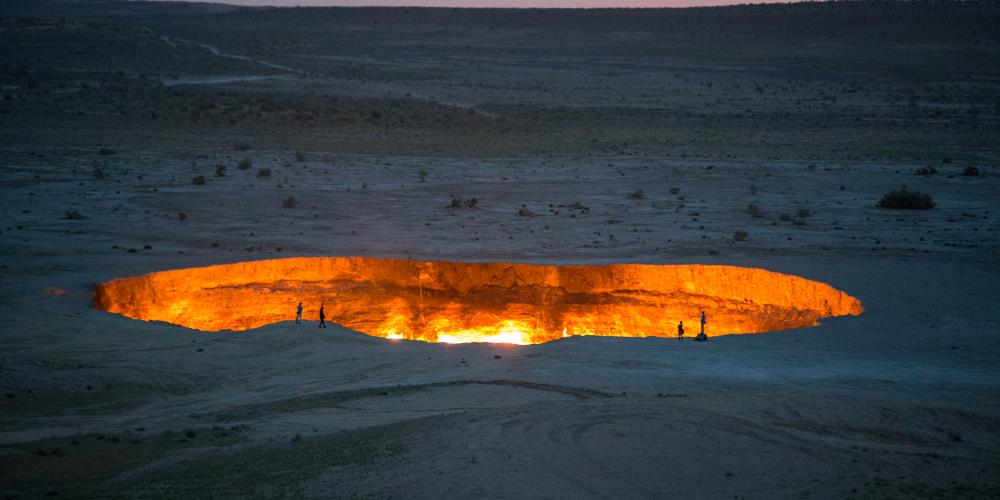 This epic 11 day adventure is offered through the Travel company Pearl of Asia. Learn more here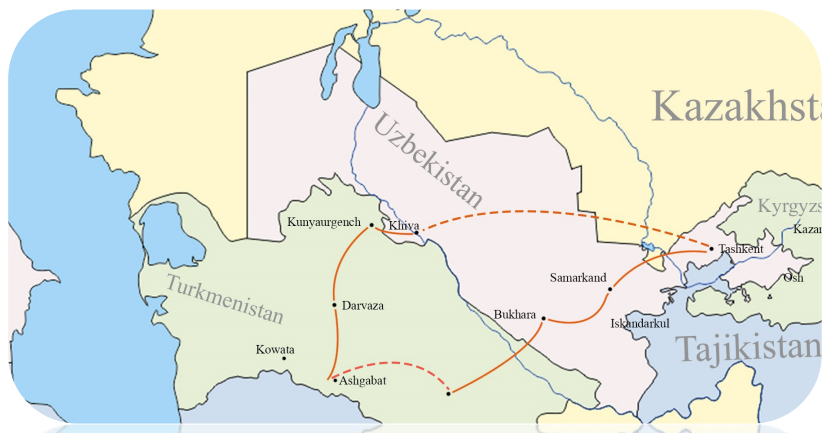 Day 1: Tashkent
Arrive in Tashkent, be welcomed at the airport and transfer to the hotel, with an early check-in. Sightseeing tour of Tashkent: Khast Imam Complex – a religious center of the city consisting of the Barakkhan Madrasah, KaffalShashi Mausoleum and the library of Islamic Literature, with the Holy Koran Book of the VII century. Visiting the modern part of Tashkent by metro: Amir Timur Square, Applied Art Museum, Earthquake Memorial, Independence Square. Overnight in Tashkent.
Day 2: Tashkent – Urgench – Khiva
Breakfast at the hotel. Transfer to the airport and flight to Urgench at 07:15. Transfer to Khiva, and start sightseeing – inner town of Ichan Kala (XIV-XX CC) with Muhamad Amin Khan Madrassah, Kalta Minor Minaret, Kunya Ark, Muhamad Rahim Khan Madrassah, Juma Mosque and Minaret, TashHauli Palace, Islam Khodja Minaret and Madrassah, Shirgazi Khan Madrassah, Pahlavan Mahmud Mausoleum. Overnight in Khiva.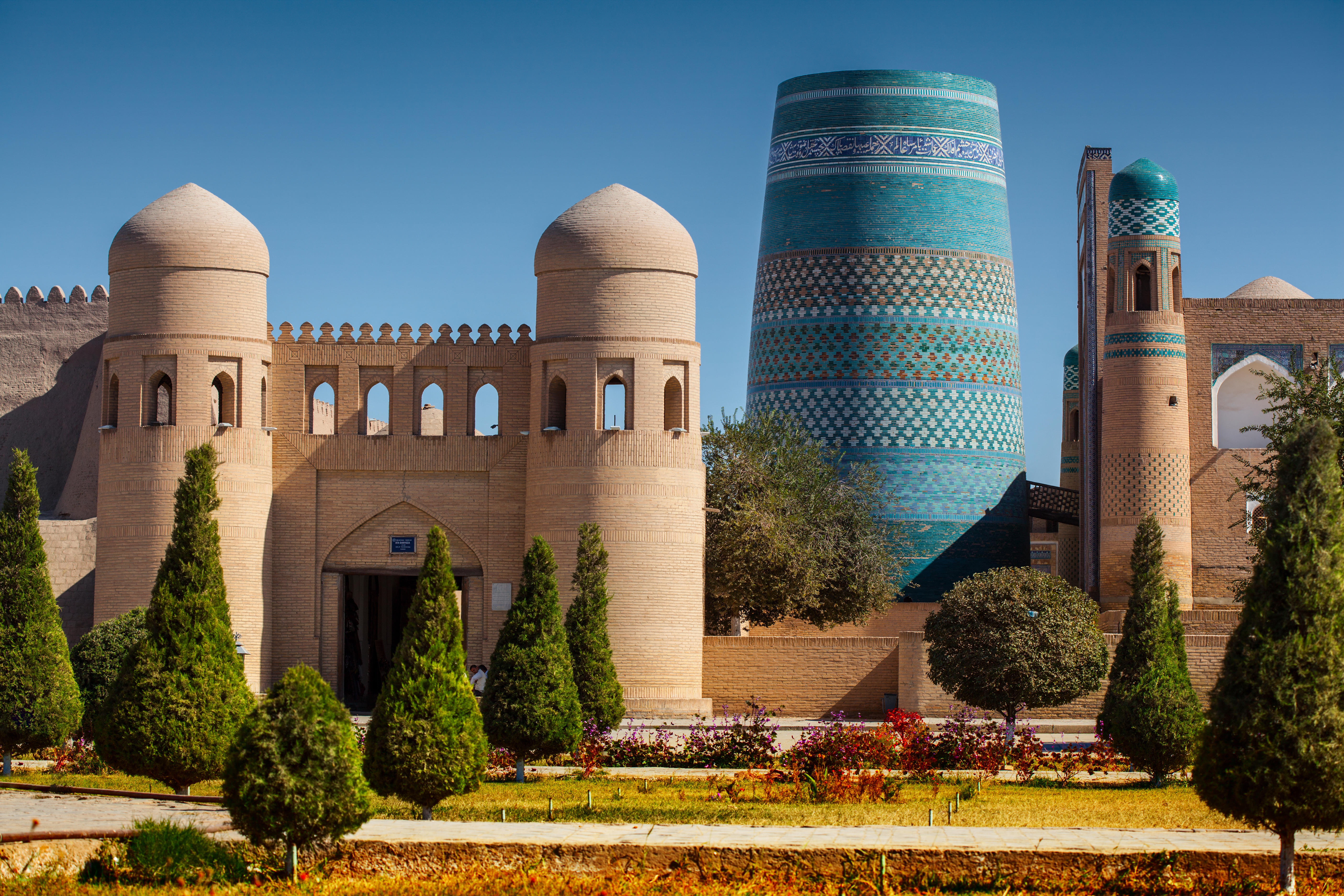 Day 3: Urgench – Dashoguz (Shavat) Post – Darwaza
Breakfast at the hotel. Transfer to Uzbekistan - Turkmenistan border point. Sightseeing tour of the historical places of "Kunya-Urgench": Excursion in KunyaUrgench. Sightseeing tour in KunyaUrgench: visit Portal of Caravansaray, Mamur Minaret, II Arslan Mausoleum, Sultan Tekesh Mausoleum, Academy of Horezm, kutlug Timur Minaret, Turabek Hanum Mausoleum. Transfer to famous Gas crater – Door to Hell. Dinner, rest & overnight in camp near crater with an underground lake.
Day 4: Darwaza - Ashgabat
Picnic style breakfast. Drive back to Ashgabat. En-route we cross Karakum desert, will make a stop in small desert village Erbent. Arrival in Ashgabat. You will see Presidential Palace, Ruhyyet Palace, Wedding Palace, modern "Yildyz" Hotel, Ferries Wheel, Constitution Monument, Arch of Neutrality, Monument and park of Independence, Ertogrul Gazy Mosque, Ashgabat Sports and Housing facilities, the Earthquake and victims of WWII Monuments. Overnight in Ashgabat.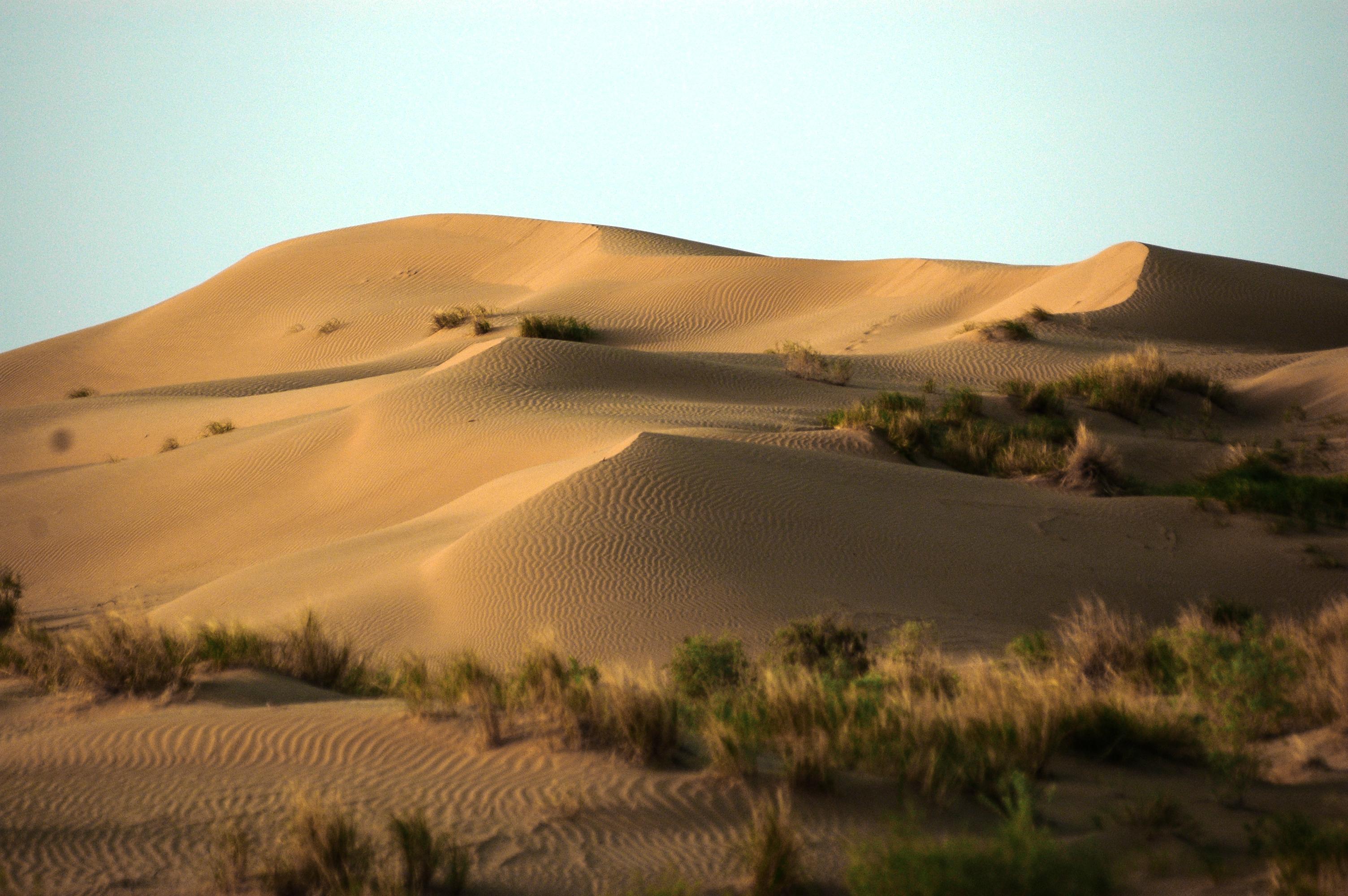 Day 5: Ashgabat
Breakfast at the hotel. Morning drive to visit Nisa fortress -the Sanctuary of Parthian Kings. UNESCO declared this fortress a World Heritage Site in 2007. Nissa is described as one of the first capitals of the Parthians. It was founded by Arsaces I who reigned from 250 BC to 211BC, and reputedly the royal necropolis of the Parthian Kings. However, it has never been established that the fortress at Nissa was a royal residence or a mausoleum. Drive to Kowata underground lake which is located 107 km from Ashgabat. The Turkmen name Kow-Ata means "father of caves". This underground area seems like a magnificent auditorium: the overall length of the cave is 230 m, its height reaches 20 m, and its width is at some points is 57 m. The bottom of the cave is covered with lumps of dissolved limestone (stalagmites), and its warm and gushing water is clear and emerald colored. The water has a constant temperature of 33-37°C, perfect for a swim. Then a scenic drive to Gokdepe fortress, which was attacked in December 1880 by Russian Empire Army. The siege of Gokdepe lasted 23 days, after which the city was taken by storm. Visit Geokdepe Mosque (Saparmyrat Hajy) which was built in 1995 to commemorate the defeat, and is noted for its mint-turquoise blue colored roof and white marble structure.
Day 6: Ashgabat – Mary – Bukhara
Breakfast at the hotel. Morning flight to Mary. Arrival and transfer to ancient Merv for excursion. Sightseeing of Merv: visit Gyz Gala & Oglan Gala, Complex of Askhabs, Gyaur Gala, Erk Gala, Soltan Gala, Sotlan Sanjar Mausoleum etc. After excursion transfer to Turkmen – Uzbek border Farap. Uzbek driver will meet you at Uzbek side. Drive to Bukhara, transfer to the hotel. Overnight in Bukhara.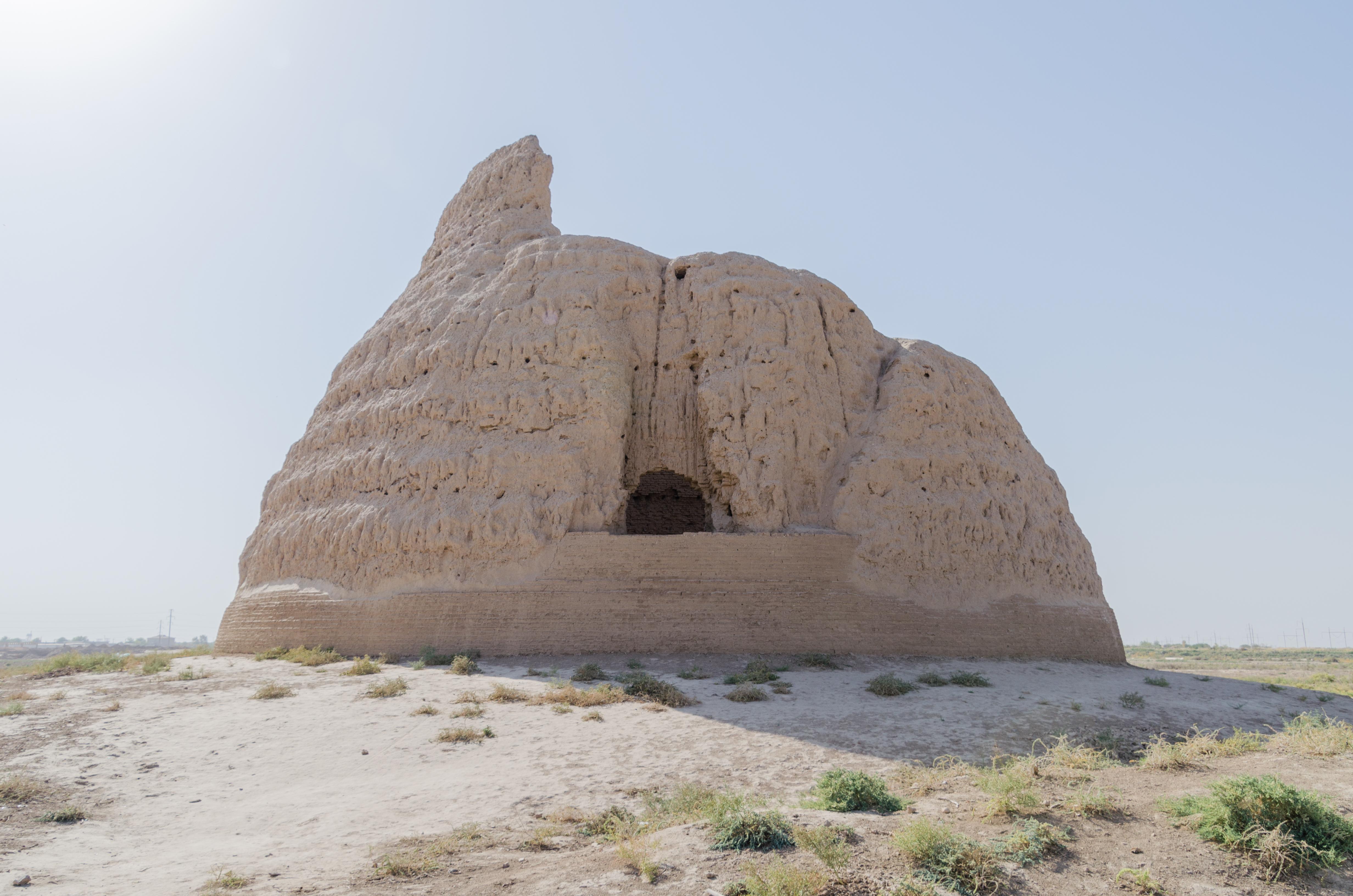 Day 7: Bukhara
Breakfast at the hotel. Starting city tour in Bukhara at 09:00. City tour with visits to the Ark Fortress – residence of Bukhara khans (I-XX CC), Bolo Hauz Mosque (XVIII C), Samanids Mausoleum – Shrine of Ismail Samani and other members of the Samanid Dynasty (IX-X CC), Chashma-Ayub Mausoleum – Saint Job's well (XII-XVI CC). Continue sightseeing by walk: Poi-Kalyan complex with Kalyan Minaret (XII C) through orient bazaars with three trade domes of Toki Zargaron (XV C), Toki Sarrafon (XVI C), Toki Telpak Furushon (XVI C), Ulugbek Madrassah (XV C), Abdulazizkhan Madrassah (XVII C). Visiting Lyabi Hauz complex consisting of Kukeldash Madrassah (XVI C), Magoki Attori Mosque now used as a carpet museum (XII C), Nadir Divan-begi Madrassah and Nadir Divan-begi Khanaka. Overnight in Bukhara.
Day 8: Bukhara – Shakhrisabz – Samarkand
Breakfast at the hotel. Drive to Shakhrisabz – hometown of Tamerlane. In Shakhrisabz we will visit the magnificent Palace of Timur – AkSaray. The palace is covered with beautiful blue, white and gold mosaics. Continue by visit of Kok-Gumbaz Mosque and Dorus-Saodat Mausoleum. Drive to Samarkand. Overnight in Samarkand.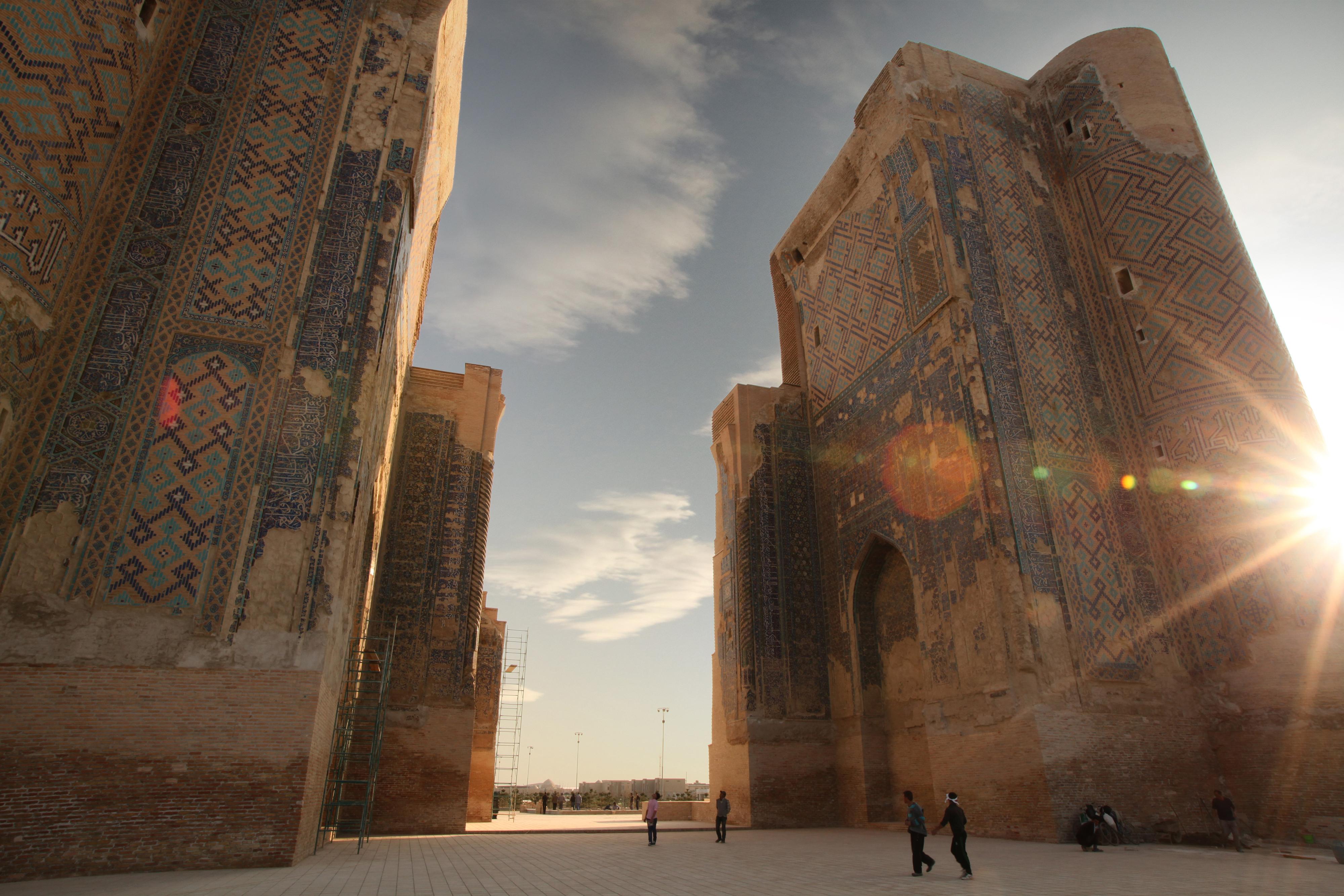 Day 9: Samarkand
Breakfast at the hotel. We will start sightseeing from the gem of Samarkand – Sunset is a perfect time to see the Registan and three madrassahs (religious study centers) surrounding the square: Ulughbek Madrassah (XV c), Sher-Dor Madrassah (XVII c), and Tillya-Kari Madrassah (XVII c) – covered with gold. Visit to Gur Emir Mausoleum – tomb of Tamerlane, ShakhiZinda Necropolis – ensemble including mausoleums and other ritual buildings of IX-XIV and XIX CC, Ulughbek Observatory, built in XV century by Timurid ruler and astronomer, Bibi Khanym Mosque – built by Amir Timur (Tamerlane) in XV century and Siyab Bazaar. Overnight in Samarkand.
Day 10: Samarkand – Tashkent
Breakfast at the hotel. Today we will visit Museum located in ancient settlement of Afrosiab. Then visit to Tombstone of KhodjaDaniyar (St Daniel), revered by three world religions: Christianity, Judaism and Islam, and mausoleum is still a pilgrimage place for the followers of all three Abrahamic religions. Drive to Konigil village to visit Samarkand Paper Mill "Meros", where you can see the process of making famous Samarkand paper by ancient technology. Transfer to the railway station for train Samarkand-Tashkent at 17:00. Arrive Tashkent at 19:10. Overnight in Tashkent.
Day 11: Tashkent
Breakfast at the hotel. Check out by 12:00. Transfer to the airport. End of the tour.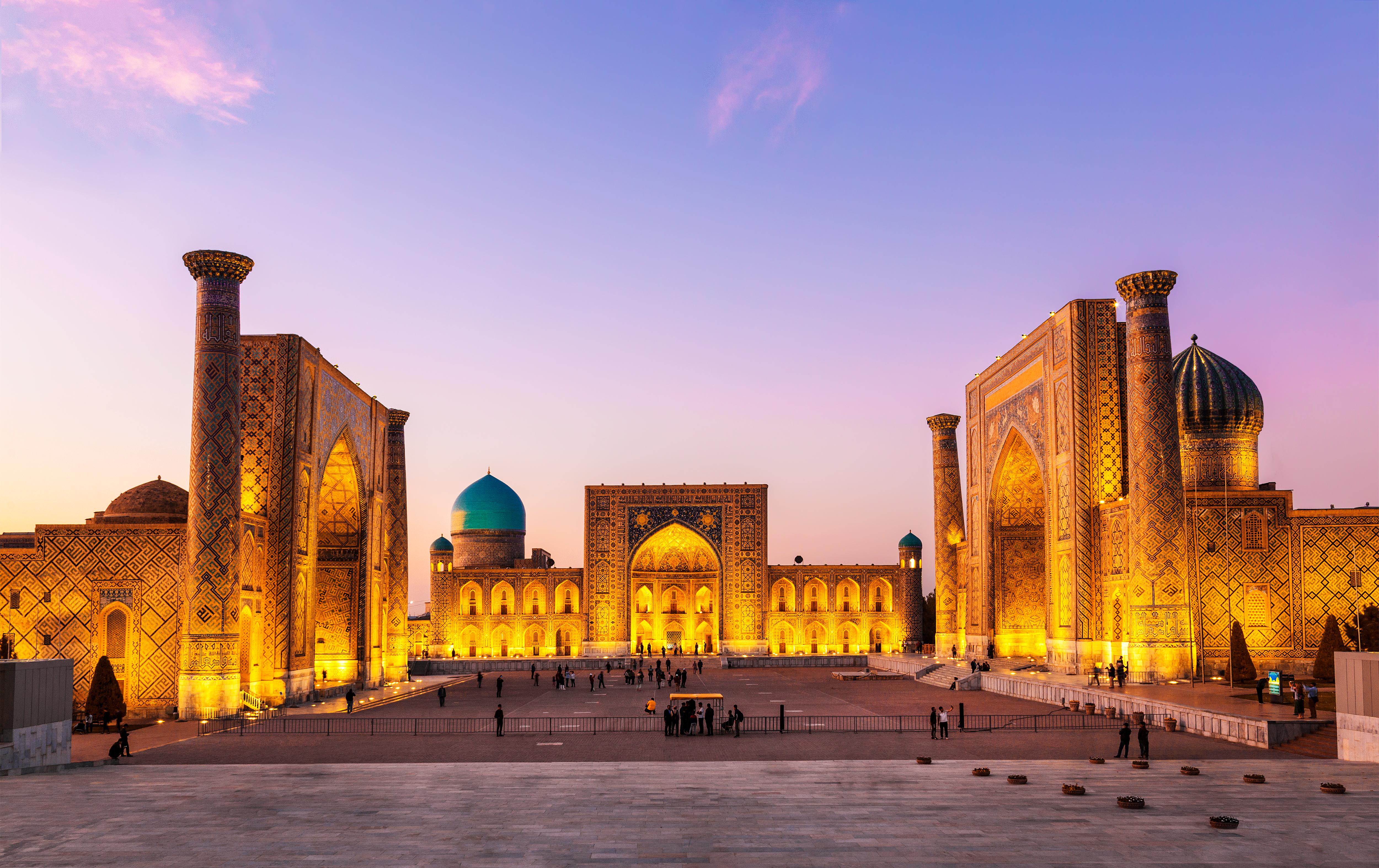 This itinerary was developed and offered by Pearl of Asia - Travel Company who offers scheduled and custom journeys to the Silk Route. Pearl of Asia is a tour operator from Turkmenistan with unrivaled destination expertise.