Cecilienhof Country House in the New Garden
Seventy years after the meeting of World War II's three main Allies to reorganise Europe, Cecilienhof Country House remains a significant site of world politics and a place of great interest for visitors from around the globe.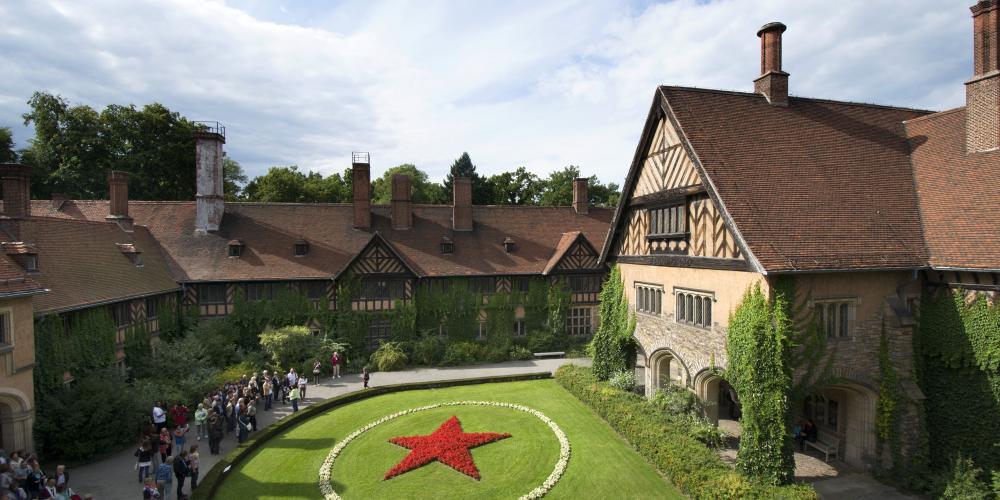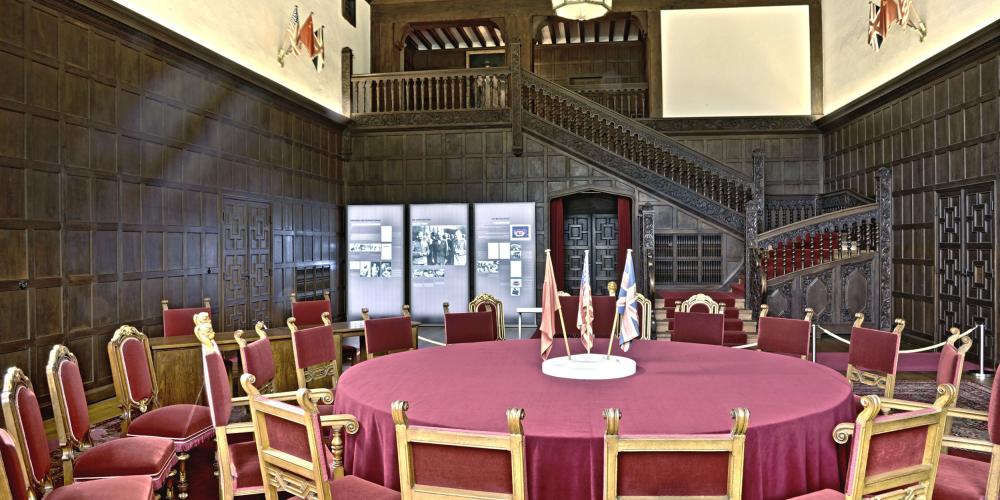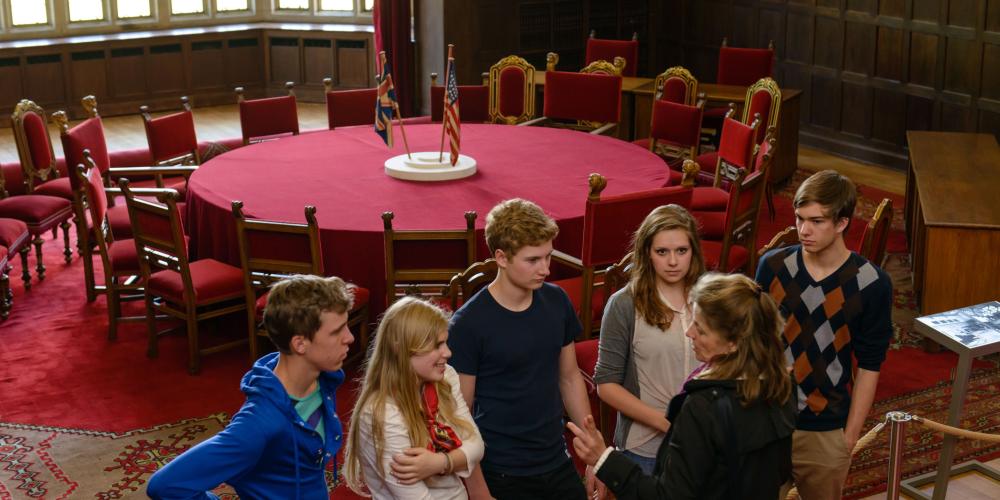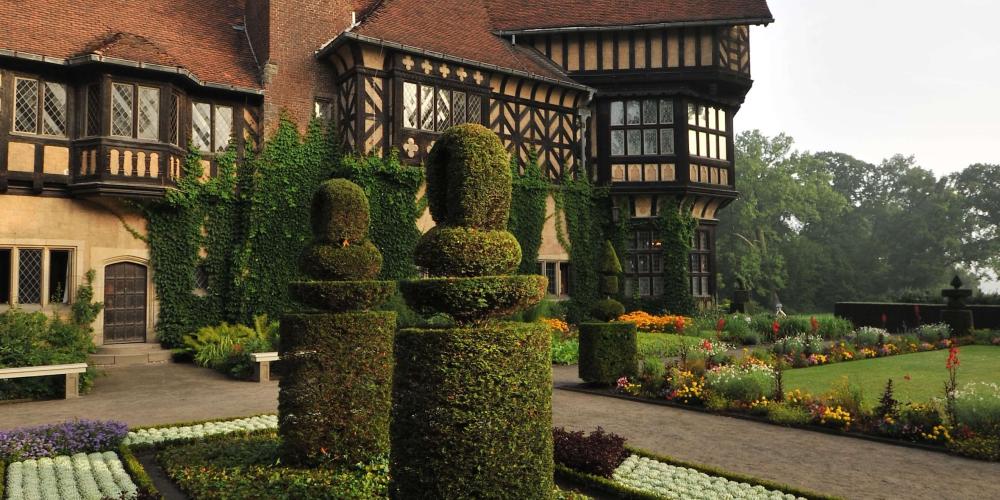 World history was written at Cecilienhof Country House in the summer of 1945. Following the end of fighting in Europe, World War II's three main Allies met here to discuss the continent's reorganisation and Germany's future. The results of this conference, officially known as the "Three Power Conference of Berlin," were laid out in the Potsdam Agreement and the Potsdam Declaration.
The permanent exhibition in Cecilienhof Country House presents a wealth of historical photographs and multilayered information (in German and English) at its authentic location, allowing a vivid image of events surrounding the conference (from July 17–August 2, 1945) to come to life. The decisions of the Potsdam Protocol are presented directly at the site in which they were negotiated in 1945—by Churchill followed by Attlee, Truman, and Stalin—in the Conference Hall, the centrepiece of Cecilienhof's historical memorial, with its famous round table.
An audio guide enhances a visit to the exhibition. Among other original recordings, statements by Churchill, Truman, and Stalin can be heard. The audio guide is available in eleven languages: German, English, French, Italian, Spanish, Polish, Russian, Hebrew, Japanese, Chinese, and Korean.
In addition to the political events of 1945, the exhibition delves into the palace's construction and the history of its former residents: Crown Prince William (1882–1951) and Crown Princess Cecilie (1886–1954) of Prussia, for whom Cecilienhof Country House was built from 1913-17. The royal couple lived at the palace until February 1945.
Visit
Cecilienhof Country House in the New Garden
Hours
January – March & November - December:
Monday: closed
Tuesday - Sunday: 10:00 - 16:30
April - October
Monday: closed
Tuesday - Sunday: 10:00 - 17:30
Visits to Cecilienhof Country House in the New Garten are bound to fixed admission times. Same-day tickets are available for purchase at palace registers as of 10 am. Because the number of admission tickets per day is limited, we recommend purchasing your tickets in advance through the SPSG online ticket shop.
Cecilienhof Country House: multimedia guides are available.
Private Apartments of the Crown Prince and Crown Princess: Can only be viewed with a guided tour | Guided tours: 10:00, 12:00, 14:00, 16:00
Exhibition areas are wheelchair accessible.
Pricing
sanssouci+ Ticket
Price: € 19.00 Reduced: € 14.00
Buy tickets online
sanssouci+ Family Ticket
Price: € 49.00
Annual Pass for the Palaces
Price: € 60.00 reduced: € 40.00
sanssouci+ Ticket and sanssouci+ Family Ticket are valid for one visit to all of the SPSG palaces in Potsdam, including Sanssouci Palace, on a single day (special exhibitions are excluded such as exhibition Potsdam Conference 1945, Cecilienhof Country House, 1 April to 31 October 2021). In the Belvedere Pfingstberg, ticket owners are granted the reduced rate. When purchasing a ticket sanssouci+ Online a fixed admission time (time-slot) in Sanssouci Palace is booked.