Doudou Mons
Discover the "Doudou, Ritual Ducasse of Mons", recognised as a Masterpiece of the Oral and Intangible Heritage of Humanity! Commonly known as "Doudou" the Ducasse is a week of collective jubilation that takes place in Mons on the weekend of Trinity Sunday each year.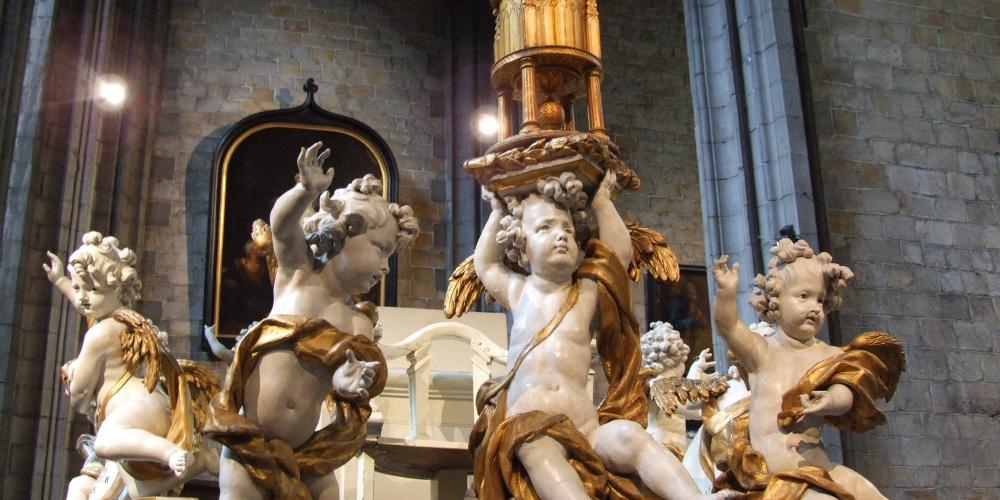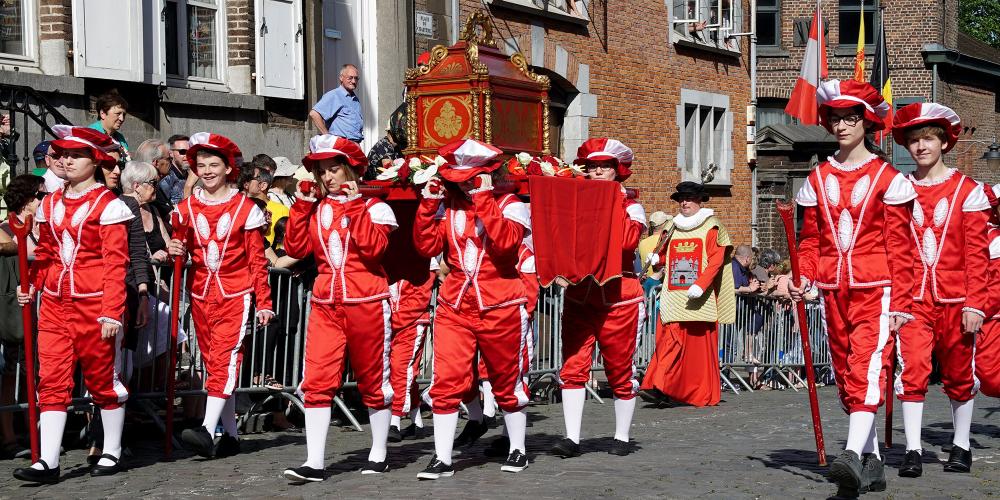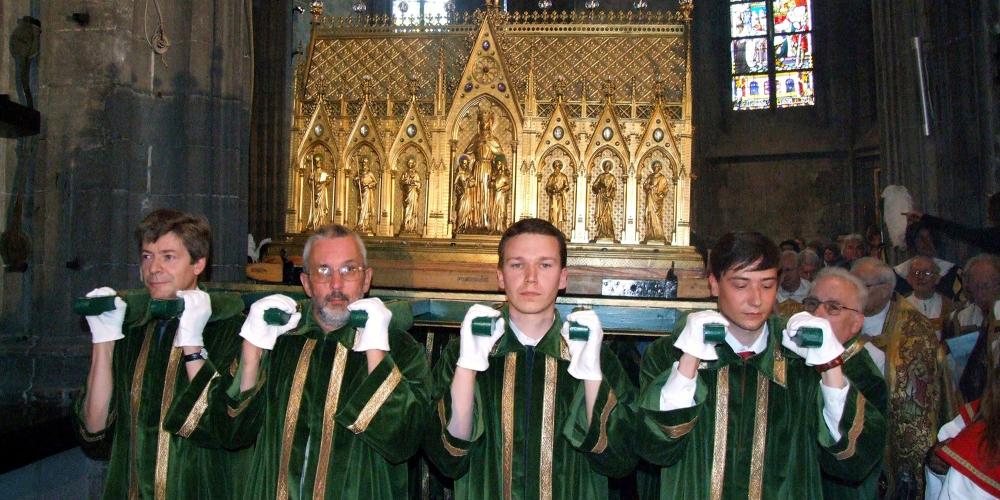 The Ducasse de Mons or "Doudou" is a popular festival that happens every year on Trinity Sunday (57 days after Easter) in the town of Mons in Belgium. With origins in the Middle Ages, it is recognised by UNESCO as one of the Masterpieces of the Oral and Intangible Heritage of Humanity. The feast comprises two important parts: The procession, descent and uprising of Waltrude's Shrine; and The combat of Saint George and the Dragon, named Lumeçon.
Schedule of Doudou events:
The Descent Of St. Waltrude's Reliquary (Saturday 8pm)
St. Waltrude founded Mons in the 7th century and his remains (bones) are still conserved in a reliquary. This can be seen in St. Waltrude's Collegiate Church in the heart of Mons. During the ceremony of the Descent of St. Waltrude's Reliquary, you can see it before it is placed on the Golden Coach the very next day. You will also hear the "Air du Doudou", the official hymn of the ceremony.
The Procession Of The Golden Coach (Sunday 9.30am)
Once the Reliquary has been placed on the Golden Coach, the Procession can begin. It is a kind of cortège which takes place on Trinity Sunday before the famous Battle of St. George and the Dragon. You will discover the history of Mons through its ancient brotherhoods, guilds and crafts as well as the canonesses of St. Waltrude.
The Ascension Of The Golden Coach (Sunday 12 Noon)
Later on, if you are feeling enamoured, you are bound to be helping to push the Golden Coach at the end of the procession. It's an incredible spectacle. Legend dictates that the Golden Coach must go up the slope without stopping otherwise misfortune will fall on Mons for a whole year!
The Battle Called Lumeçon (Sunday 12.30pm)
It's 12.30 on Sunday afternoon. St. George and the Dragon are ready with their allies: the Chinchins for St. George, the devils for the Dragon. There are also the white men and leaf men, policemen, firemen and Cybèle & Poliade. To fight the Dragon, St. George uses 3 weapons: a spear, a sabre and a gun. During the fight, to the sound of the Air du Doudou, the audience will try to tear out the Dragon's tail hair, which brings luck. You have no idea!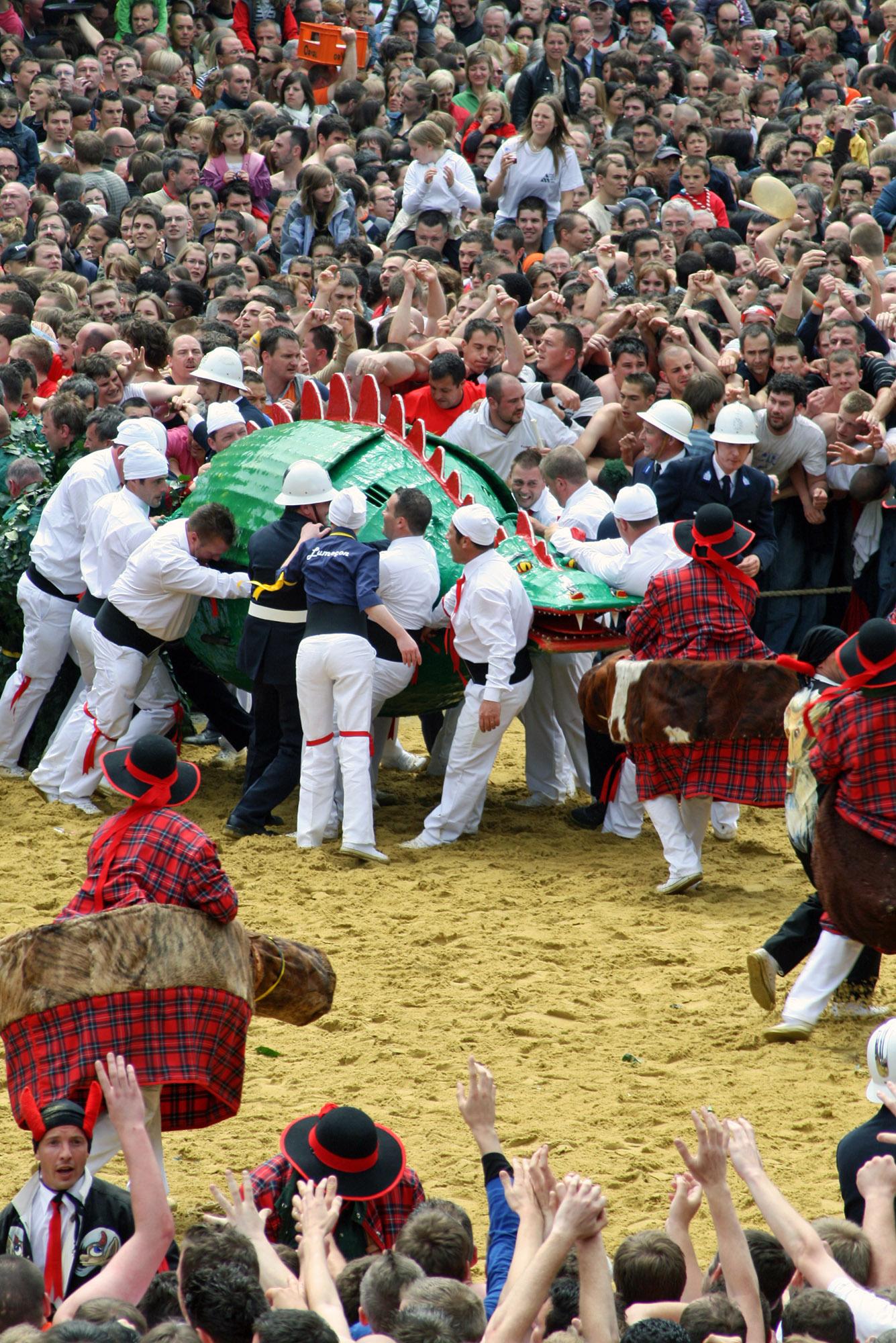 Not to be Missed!
Museum of the Doudou (Grand-Place, Jardin du Mayeur - 7000 Mons)
To learn all there is to know about the legend of St. George and the Ducasse of Mons: the Doudou, listed in the Oral and Immaterial Human Heritage of UNESCO. Open from Tuesday to Sunday, from 10 am to 6 pm (last entry at 5 pm).
Audio guide to the Doudou that can be explored online and downloaded to your mobile device in the following languages: English | French | Chinese | Dutch