During the Visit: Experience
Experience implies that the visitor is affected and changed by insight, engagement and activity. Experience is beyond simply looking and passive observance.
By nature it involves a deeper understanding of self and the world we live in. At the heart of experiencing a site or destination is storytelling, activation, interpretation and activity. Visitors are seeking unique and personal experiences that go below the surface, dig deeper and go beyond simply looking at vistas and objects. Visitors seek to be informed, affected and engaged.
However, prior to achieving these 'higher goals' that visitors seek, managers must consider and address the more basic needs of the traveller.
Visitor comfort, provision of food and drink, access for all to and around the site and destination also greatly impact the visitor experience.
Likewise visitor safety and security are of paramount importance, as is a high level of customer service by contact staff. Visitors seek 'moments that matter' and the experience of the site must match or exceed the World Heritage brand promise and visitor expectation.
Experience - Techniques to consider when promoting and interpreting
Interpretation and promotion refers to all the ways in which information and inspiration is communicated to potential and actual visitors.
The goal of interpretation is to improve and enrich the visitor experience by helping visitors to understand the significance of the site they are visiting and connecting these meanings to the visitor's understanding of themselves and the world in which they live.
By weaving compelling thematic stories about the site and associated historic events, interpretation aims to engage, provoke and affect change in the visitor.
Interpretation and effective promotion is a communication process that forges emotional and intellectual connections between the visitor and the Outstanding Universal Value inherent in the World Heritage site.
Interpretation enriches the visit through engaging emotions, enhancing experiences and deepening understanding of people, places, events and objects from the past and present.
Interpretation and promotion is not simply information. However, it is revelation and engagement based on information. Interpretation and promotion goes beyond instruction, it provokes change of thinking, understanding and behaviour.
Just as the use of technology and change has become the norm in our everyday life, so is the case with how managers must consider and present promotion and interpretation of a World Heritage site. The table below describes the change required to better meet the visitor experience desired by travellers to sites and destinations.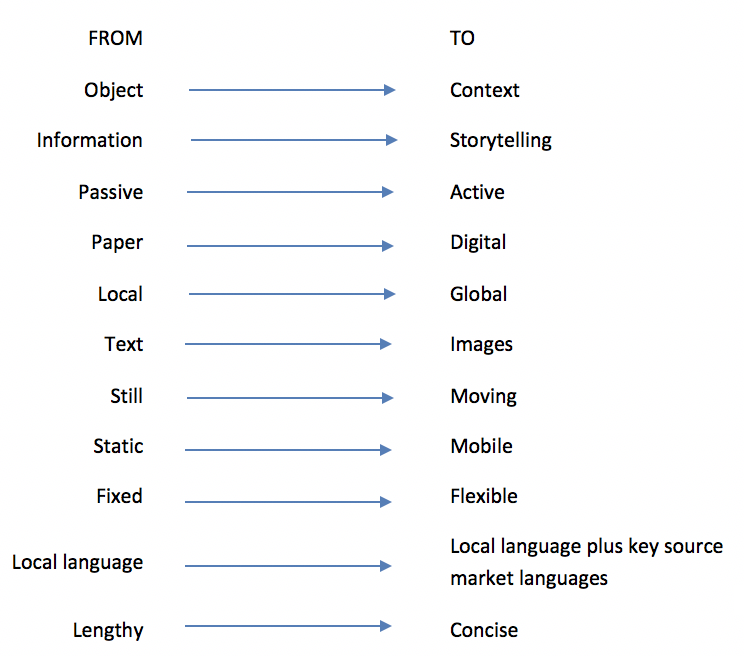 With the rapid emergence of technologies available and the new ways technology can enhance visitor engagement with a site, it remains critical that the technology itself doesn't become the highlight and the legacy of the visitor experience. Technology should be used by site managers to complement and help showcase the natural and cultural assets that the World Heritage site can offer visitors.
Interpretation/Activation - Costumed Characters and Customised Audio Guides
CASE STUDY: The Roman Baths, Bath, UK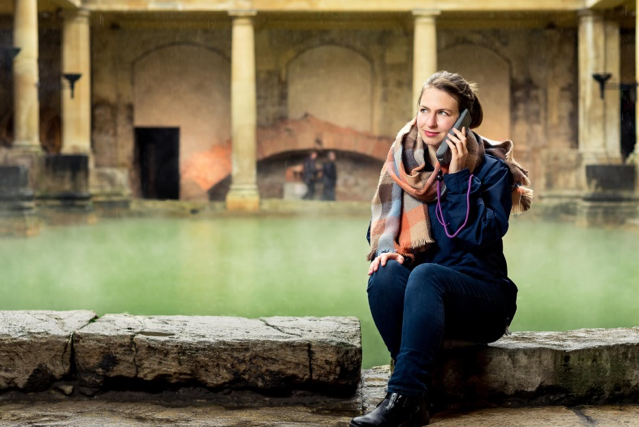 To bring the past alive and enable visitors to interact and ask questions about life in Roman Britain, costumed interpreters are in action on a daily basis, and during the evenings in summer. Visitors can meet a variety of characters, including: the Roman soldier and armourer, or Flavia and Apulia, a Roman lady and slave girl, or Sulinus and Brucetus who are stonemasons, or the priest Gaius Calpernius Receptus and a travelling merchant named Peregrinus. These characters are based on real people who lived and worked at Aquae Sulis 2,000 years ago. Their stories have been reconstructed from evidence found on site at the Roman Baths, which can be seen in the museum displays during the visit.
The Roman Baths have also won awards for their audioguides, which are available in twelve languages, with one especially for children, one for people of all ages and another by celebrated writer Bill Bryson with his own personal commentary on the Roman site. All are included in the admission price. A hand held British Sign Language guide and a special audioguide with enhanced audio description for people with visual impairment are also made freely available.
Useful links:
Official website
CASE STUDY: L'Anse aux Meadows Viking site, Canada
Interpretation and storytelling can be especially important for archaeological sites. At the tip of Canada's Newfoundland's Great Northern Peninsula lies the first known evidence of European presence in the Americas, the L'Anse aux Meadows site. In addition to a visitor centre, where everyone is encouraged to watch a 15 minute introductory video, specialised story telling tours are available, such as the 'Saga and shadows' tour. During these highly interactive evening tours, visitors gather around the skáli ("kitchen") in one of L'Anse aux Meadows reconstructed sod buildings and share heroic and tragic tales from the Viking Sagas and more. The kitchen fire warms them as they raise their glasses with a Viking (the cheer is spiced juice made from local partridge berries), offering a dramatic storytelling adventure.
Useful links:
Official website
---
During the Visit: Share
Sharing the experience of visiting a site with friends and relatives is increasingly becoming an integral part of the visitor experience, with the European Travel Commission highlighting that taking photos and accessing social media is now ranked in the top 10 activities for smart phone owners . With mobile phone technology images, text and video can immediately be distributed to a global audience and can enhance the profile of both the sender and the site. However the shared content can also expose the site in a negative way if the experience fails to meet visitor expectations.
Social media and review sites like TripAdvisor can further amplify the visitor perception of a site and can be a major influencer and driver of visitation and visitor expectation.
Where possible, sites must have the network capacity to capitalise on the opportunity and establish WiFi hotspots to facilitate the sharing experience. User generated images and texts can further enhance other relevant digital platforms (site specific and regional) and provide a richness and refreshment through regular digital updates.
When used strategically, social media can be a powerful form of marketing and market research. However to achieve its full potential, sites and destinations must dedicate financial and human resources to capture, engage, moderate, curate and distribute content. Social media is a key source of market intelligence and analysis of brand management and customer service. This content can be further amplified through engagement and collaboration with bloggers, publishers and social media influencers.
These channels provide access to an engaged audience of potential visitors and authentically enhance the profile and appeal of the site or destination.
Sharing - Enhancing Social Media image using Hashtags
CASE STUDY: Mont Saint-Michel, France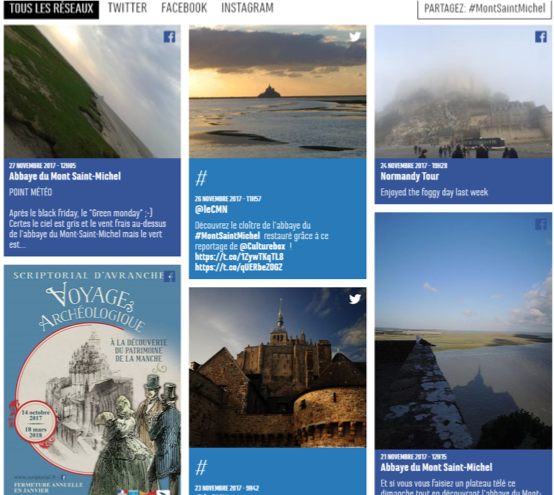 The Mont Saint-Michel Abbey homepage showcases images taken at the site and shared on Instagram, Facebook and Twitter by visitors using the dedicated hashtag, #MontSaintMichel. This provides incentive for visitors to share their experience at the UNESCO World Heritage site on social media as their photo could be selected to be featured on the website.
Useful links:
Official Website Mont Saint-Michel Abbey
Sharing - Peer-Generated Ratings and Reviews
CASE STUDY: TripAdvisor
Visitors are increasingly more influenced by visitor reviews about destinations, as user-generated content is seen as authentic, honest and personal.
The online travel website, TripAdvisor, provides a platform for visitors to share their experience with others on places they have visited such as restaurants, hotels, attractions and destinations. Prospective visitors use a combination of images, advice and reviews to make decisions about where they will visit, stay and eat while on holiday. A TripAdvisor study highlighted the importance of these reviews for visitors, showing that 90% of users were influenced by positive reviews when purchasing or planning their trip .
World Heritage sites can effectively utilise TripAdvisor by sharing reviews on their website to showcase how visitors are engaging with their site. Site managers can also use TripAdvisor to gain an understanding of visitor behaviours by engaging with both positive and negative perceptions of the site. This can inspire new innovations and initiatives to improve the tourism offer at the World Heritage site.
Sharing - Sharing Personal Perspectives to Inspire Travel
CASE STUDY: Instagram photos and video - Bloggers
Sharing the moment through text and images is amplified by technology. Visitors are now armed with numerous devices that include; smart phones, iPads, digital cameras, go pros, drones and laptops.
Visitors seek to share the moment with their friends and family and require access to the telecommunication network with enough capacity to do so.
Some travellers now make a living from sharing by becoming professional bloggers.
Many destinations and attractions support (financially and in kind) professional bloggers who can provide a very cost effective global amplification of images and stories.
The following list includes examples showing different types of blogs that have developed their own online brands and reach. They are examples of how bloggers highlight aspects of the site or destination from their own perspective. These bloggers present narrative that inspires and informs. Their blogs, photos and videos present a unique perspective that they share with a global audience of dedicated followers.
Words and images have power, power to engage, power to motivate visitation and the power to get 'below the surface', dig deeper to enrich the visitor experience.
Bloggers are often called 'influencers' and some focus more on imagery using Instagram and a photo-journal approach. Other bloggers lean more towards storytelling, providing tips and guidance.
Useful links:
Instagram photos and video:
Time Travel Turtle: Michael Turtle
Budgettraveller: Kash Bhattacharya
Passionpassport
Other useful links:
Bloggers:
Nomadic Notes
World of Wanderlust
Suitcase Stories
Young Adventuress
Meraviglia