Essential Silk Route Tour, Three "Stans" Tour
See traces of the Great Silk Road and get acquainted with the history and modern life of Central Asian states.
Overview
On this tour you will not only visit the fascinating cultural highlights of the "Stans." Additionally, venture off the usual tourist circuit for insight into rural lifestyles in sleepy provincial towns and quaint villages. Travel along the Silk Road caravan route. Experience a wonderful mix of monuments, museums and mosques. As well as ancient ruins, traditional bazaars, music and dance programs. Enjoy the pristine natural beauty of mountains, canyons, lakes, rivers and parks.
Tajikistan
The tour begins in Dushanbe, capital of Tajikistan. Absorb its wild landscapes of the Tien-Shan Mountain Range, densely planted forests of conifers and magnificent canyons. The image is complete with raging rivers, unique mountain lakes, magic glaciers, herds of horses, sheep and yaks. After visiting sites, drive through picturesque scenery of Varzob Valley to Penjikent excavations from the Bronze Age.
Uzbekistan
Onward to Uzbekistan with tours of Samarkand, Shakhrisabz, Bukhara, Khiva and Tashkent.
Kyrgyzstan
Cross the border into Kyrgyzstan. Discover the charms of Bishkek, located where the Kazakh steppe meets the foothills of the majestic snow-capped Tien-Shan mountains. Enjoy the pristine Chon Kemin Gorge, located in a quiet valley with several small villages and farmers' lands surrounded by magnificent mountains and fir forest. In Jeti-Oguz Gorge, admire fantastic rock formations made of red sandstone and local pastures used by shepherds to graze flocks of sheep and herds of horses. The Original World tour features full days of activities with ample time to enjoy the local culture.
HIGHLIGHTS
Explore the rich traditions of Islamic architecture
Venture into remote Tajikistan to view important archeological ruins
Tour the historic town of Samarkand, Uzbekistan
Revel in the open steppes and the snow-capped mountains of Kyrgyzstan
Experience Shakhrisabz, one of the most ancient cities in Central Asia
Full itinerary below or a more detailed version can be found here: https://originalworld.com/wp-content/uploads/2016/11/Central-Asia-Essential-Silk-Route-2022.pdf
Tajikistan
Day 1 - Arrive Dushanbe
Arrival in Dushanbe airport. Named for the Persian word for Monday, Dushanbe was at one point a small market village where traders wouldgather each Monday to sell their goods.
During the Soviet era, the city grew to be the most important center of production in Tajikistan, but the Shohmansur covered market reflects Dushanbe's historical ties to local trade. Visit monument of Ismoili Somoni and Rudaki park and Highest Flag Shock in the world (certificated by Guinness comity) in the center of city. Then visit Tajikistan State museum, then visit the Mehrgon Bazaar andVictory Park – here view of Dushanbe from East hills.
Day 2 - Dushanbe Sightseeing
In the morning an excursion to Hissar Fortress which houses the remains of the palace of Ibragimbek Khan. Its thick walls once guarded a pool, garden, and palace, while the fortress itself opposed a noisy market and caravanserai. What remains today is a portion of the wall and the gate towers, which are representative of the 18th and 19th century style.
Return to Dushanbe and visit Tajikistan Antique Museum. The Museum includes natural history exhibits, Tajik costumes, and a mock-up of a Tajik house. With highlights - biggest statue of "Relaxing Buddha" Ethnographic part of Museum showcases traditional Tajik crafts, including ceramics, embroidered fabrics, woodcarving and jewelry.
Day 3 - Drive to Penjikent
Drive through picturesque scenery of Varzob valley and Anzob pass-tunnel. Continue to Penjikent, one of the most ancient cities of Central Asia (5500 years). Ancient Panjikent was of the easternmost settlements of the Sogdiana Empire, an Iranian civilization that ruled swathes of territories in Central Asia more than a thousand years ago.
Uzbekistan
Day 4 - Drive to Samarkand
Today go towards Tajik/Uzbek border Jartepa. It is approx. 1.5 hr drive to the border, plus one hour for border proceedures. The historic town of Samarkand is a crossroad and a melting pot of world's cultures. Founded in the 7th century B.C. as ancient Afrosiab, Samarkand received its most significant development in the Timurid's period from the 14th to the 15th centuries.
You can also visit the "Ruins of Afrosiab" - the excavation and museum of the ancient town (6 BC13 AD), the Gur Emir Mausoleum (15c); the "Stars above Samarkand " – Ulugbek Observatory (15c).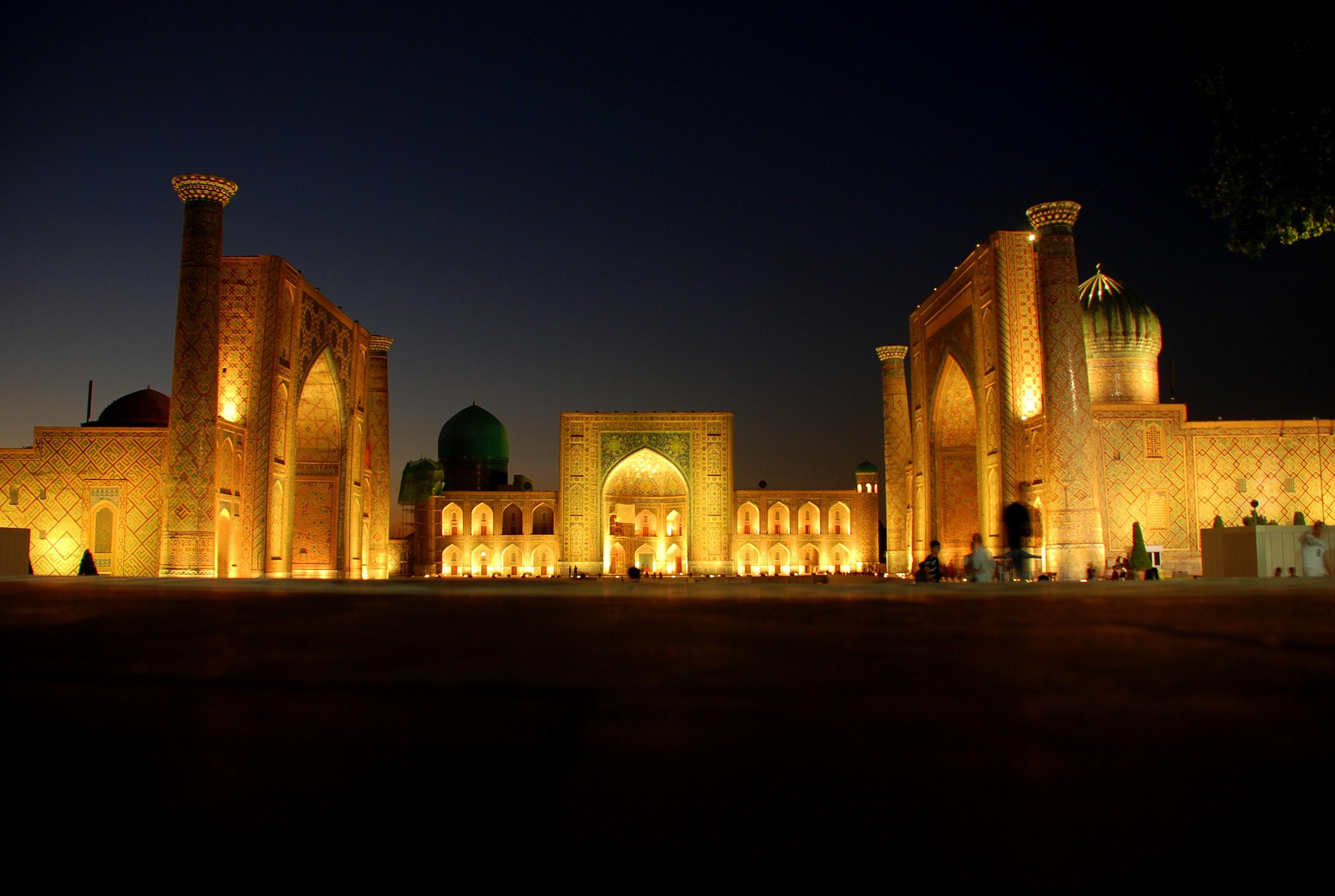 Day 5 - Samarkand Sightseeing
Start the day in this magnificent Silk Road city with an excursion to Shahi Zinda Necropolis and St. Daniel Mausoleum -a popular place for local pilgrims whom we shall see doing their sacred rituals. In the afternoon, visit the Registan Ensemble (a main highlight of Samarkand) including Ulugbek, Shir Dor, the Tillya Kari (three beautiful Madrassahs). Next go to Bibi Khanum Mosque and the Silk Bazaar. This evening, attend a show at "El Merosi," Theater of Historical Costumes.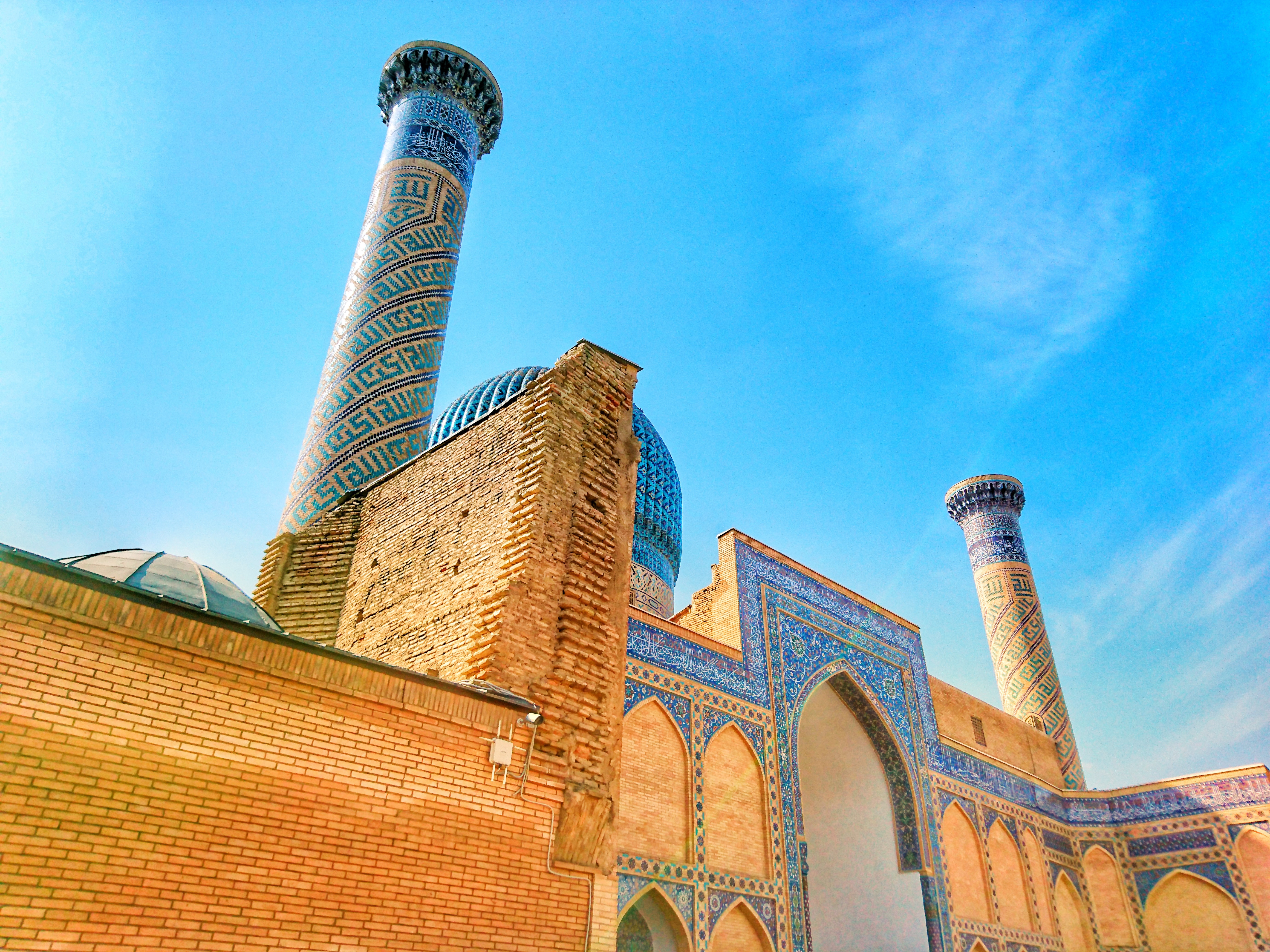 Day 6 - Bukhara via Shakhrisabz
A 1.5 hour drive away is Shakhrisabz, one of the most ancient cities in Central Asia and the birthplace and home town of Central Asia's foremost conqueror - the Great Amir Temur.
Here, you can visit Ak Saroy Palace, Kok Gumbaz Mosque, Dorut-Tilavete (The House of Contemplation) consisting of two mausoleums - Khazreti Sheikh (Shamseddin Kulial) and Ghumbezi Seyeedon with the Kok-Ghumbaz (Blue Dome) mosque. Shakhrisabz, is also a traditional center of folk arts, especially embroidery. We visit the trading aisle at the market to see the embroiders of Tubiteykas (traditional hats), suzane, carpets and belts.
Continue a 5 hour drive to Bukhara to visit ancient mosques, citadels, mausoleums, madrassas, monuments, and more!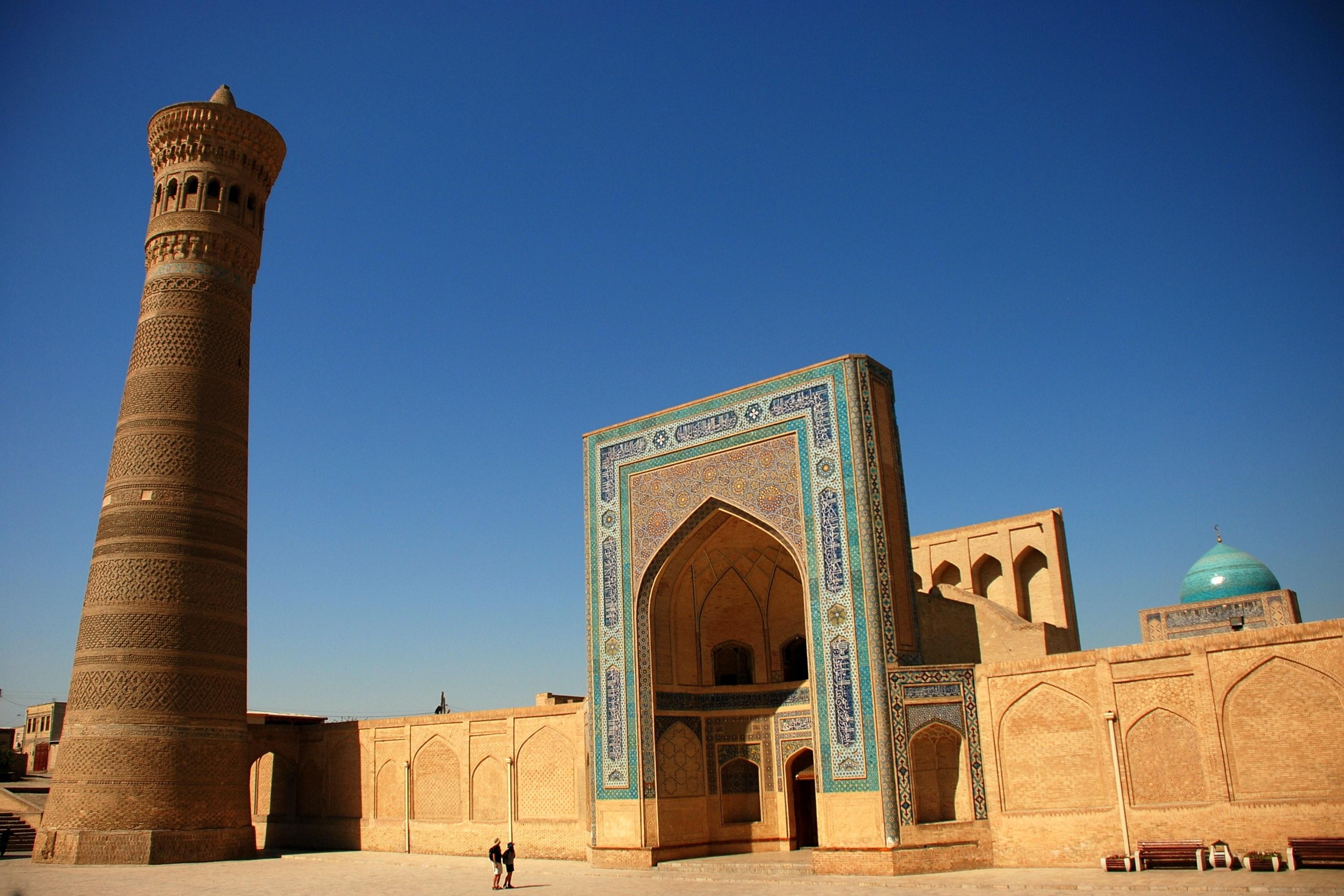 Day 7 - Bukhara Sightseeing
Spend all day sightseeing in this museum city! Start with a visit to Makhallya Khuma, the ancient Jewish block of houses and synagogue. Then traditional covered bazaars including Toki Zargaron Trading Dom Toki Telpak Furushon Trading Dome, Toki Sarrafon Trading Dome. Excursion to Sitora-i-Mokhikhosa, the summer palace of the last Emir of Bukhara (1911). The style is an eclectic mix of European, Russian and Oriental design and there is a good exhibition of traditional Suzane embroidery as well as Chinese porcelain brought along the Silk Road from China. The white hall decorated with carved alabaster resembles halls in Peterhof Palace in the suburb of St. Petersburg.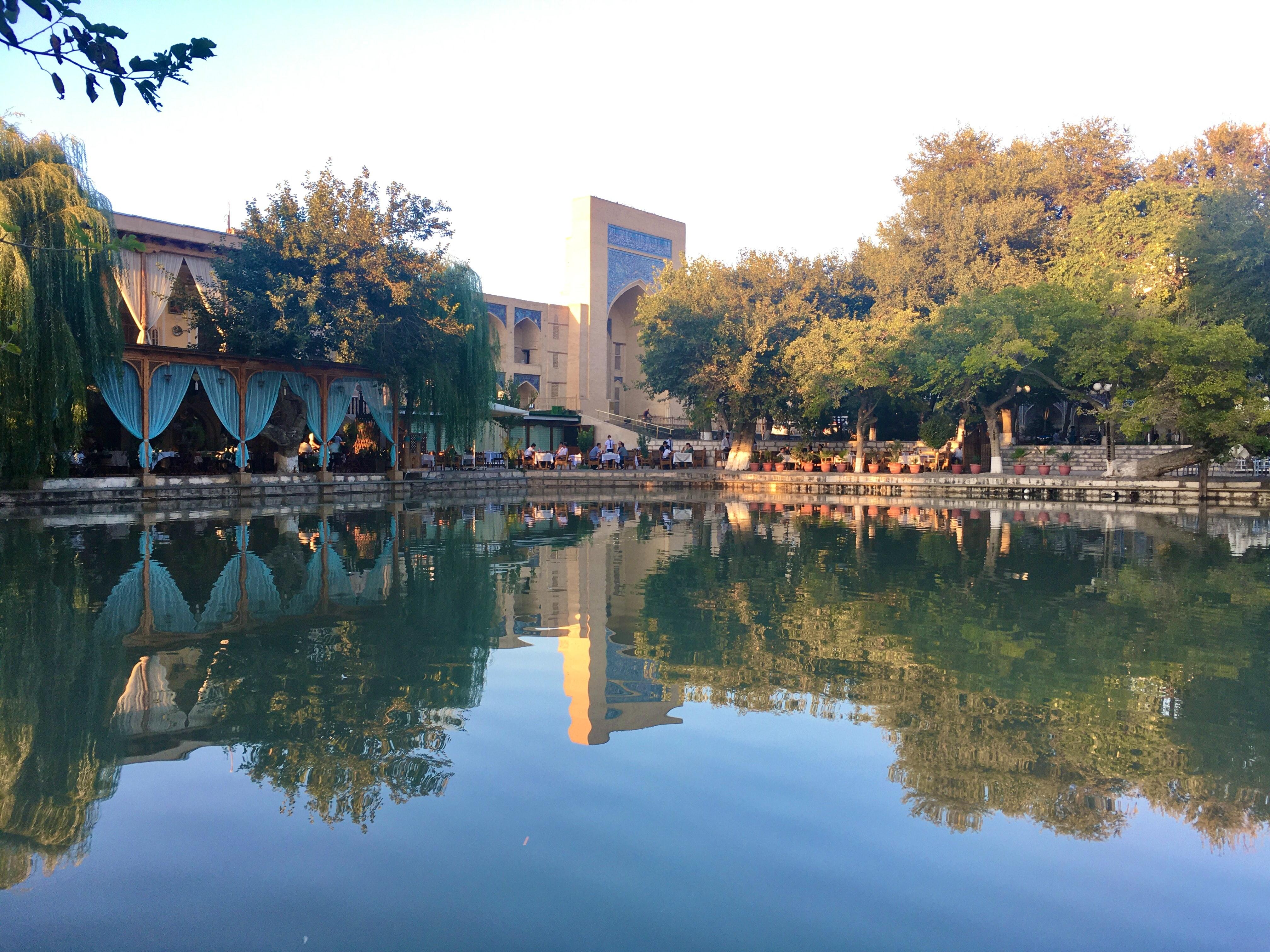 Day 8 - Train to Khiva
Drive 40 km/ approx. 50 min to visit Gijduvan Ceramics Museum. Enjoy the process of creating pottery in a local workshop of Ibodullo Narzullaev - a famous Uzbek ceramist including a wide variety of goods full of bright colors and ornaments: painted bowls and plates, elegant jugs, neat teapots and pots.
Proceed to Khiva via Kizilkum Desert (red sands) by train - the route of invaders, nomadic hordes and armies of Persians, Alexander the Great and Genghis Khan.
Day 9 - Khiva Sightseeing
Another city located on the Great Silk Road is the ancient Khorezm (Khiva), a UNESCO World Heritage Site. Khiva is an open-air museum because every building is an ancient treasure. About 60 historical monuments, including the citadel, palaces, mosques, minarets and mausoleums, have been preserved in the old part of Ichan-Kala, which preserves the image of the ancient eastern city of Khiva.
Sites to see include: Ichan-Kala Medrese of Muchammad Aminchan, Minaret Kalta Minor, Kunya Ark Fortress, Mausoleum of Pakhlavan Makhmud and Said Alauddin and enjoy view of whole ancient Khiva. Continue touring with visits to Juma Mosque, Tash Hauli Palace and Harem, Ensemble Islam Chodja (Khodja) minaret, Madrasah Alla Kuichan.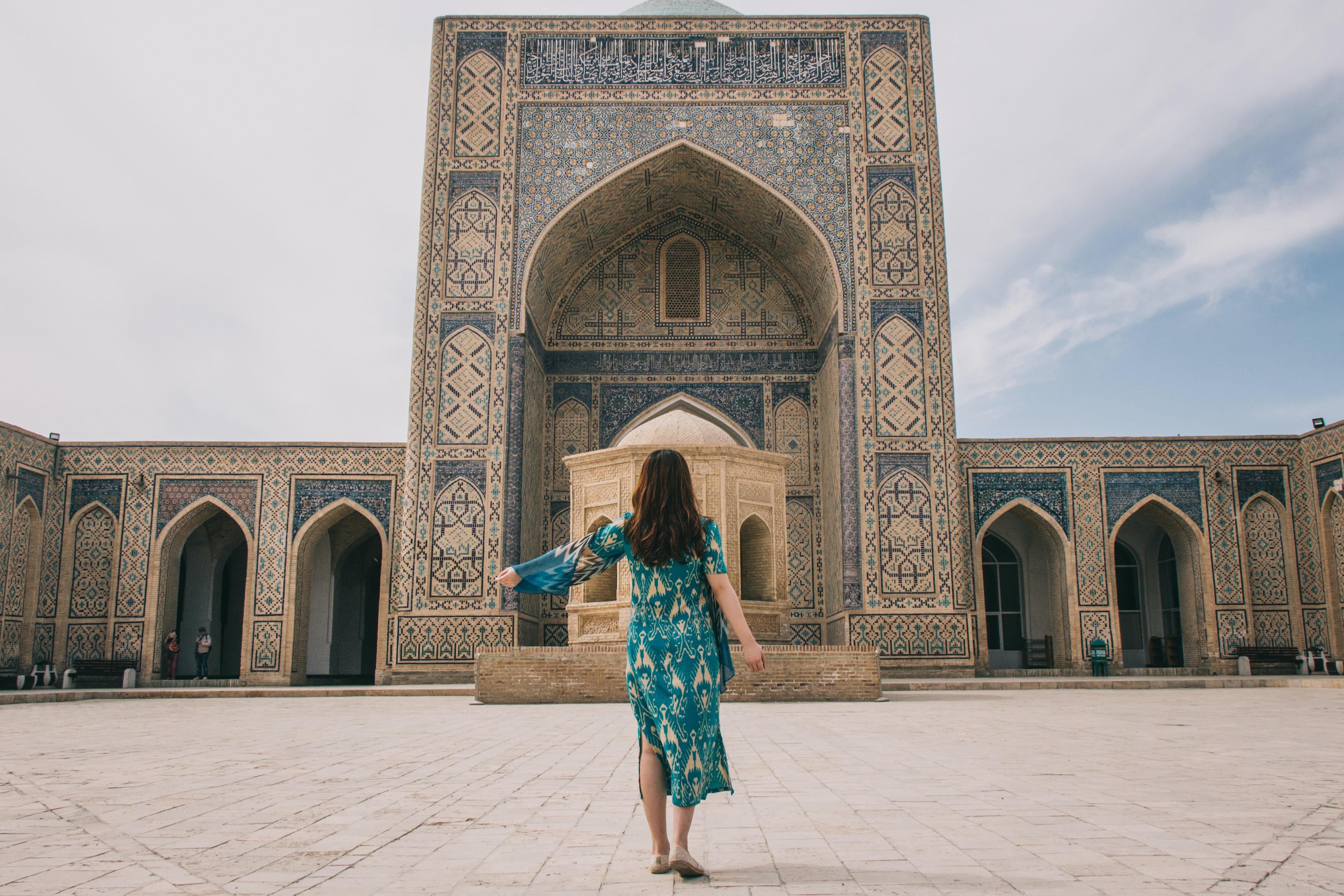 Day 10 - Fly to Tashkent
Fly to Tashkent, the capital of Uzbekistan. This wonderful city is an embodiment of the modern elegance that is inherent in many world capitals. At the same time, it remains an oriental city. Tashkent has its own unique flavor. It combines medieval buildings as if descended from the pages of old oriental tales, elegant European architecture from the period of the Turkestan governor-generalship, standard concrete "boxes" of the Soviet era and, finally, glittering skyscrapers of glass and concrete.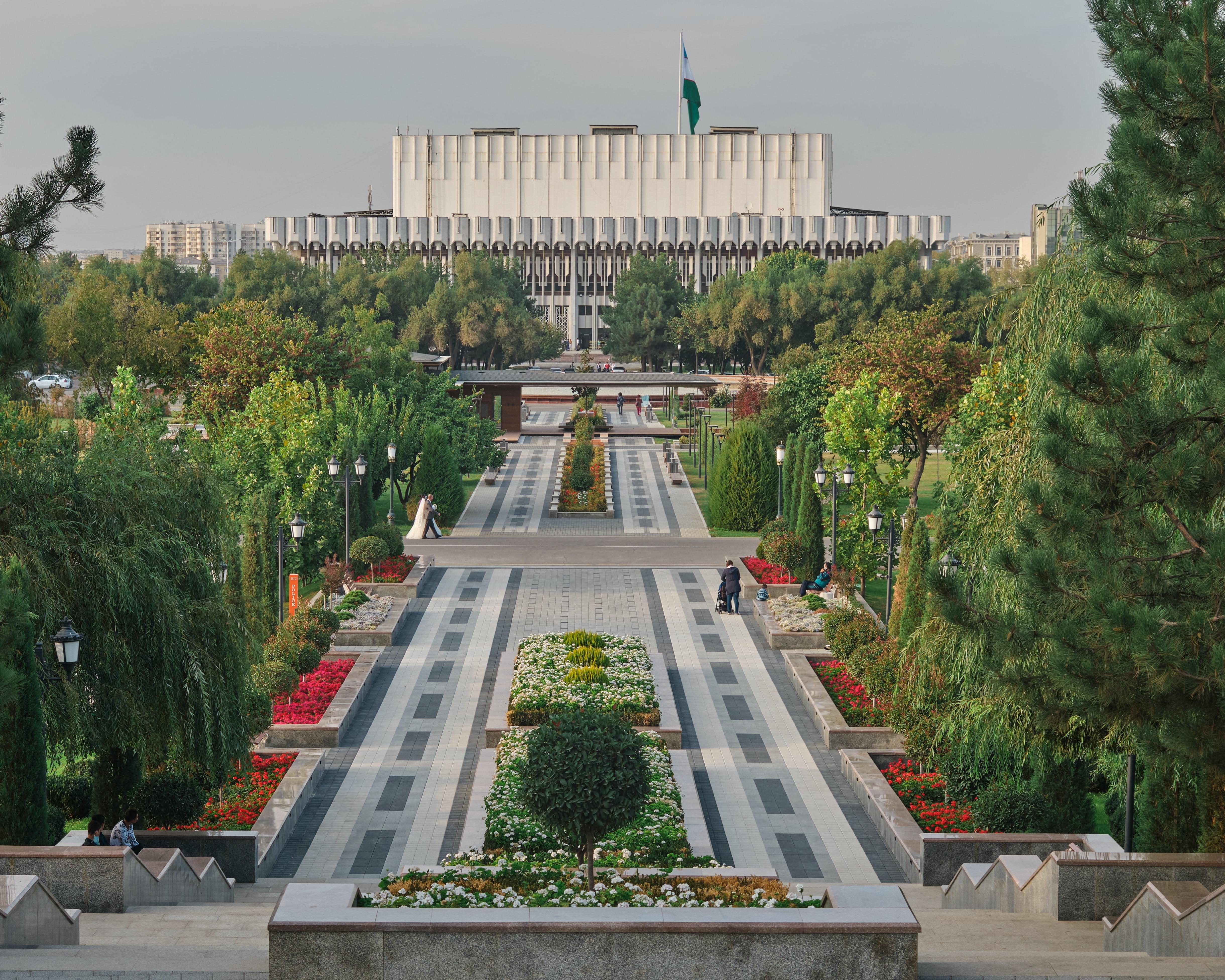 Day 11 - Tashkent Sightseeing
Visit the sprawling, colorful Chor-Su Bazaar- a great place to soak up the essence of Uzbekistan. At 2500 years old, it is one of the oldest markets and was once one of the busiest, due to its location on the silk route. The fruit and vegetables are of beautiful quality, and the spices, dried fruits and nuts inside the main blue dome are delicious.
Next, tour the historic Old Quarter of the city starting with Madrasah Kukeldash close to Su bazaar. For many years it was the center of the city's life.
Also pay a visit the Kaffal Shashi Mausoleum, Barak Khana Seminary, Tila Shaikh Mosque, and archives known for the exhibit of a rare copy of Koran written by the third Caliph Othman. If time allows in your day, visit the excellent Museum of Applied Arts and the crafts section of the local market.
Day 12 - Drive to Fergana
Drive to Fergana (350 km/6-7 hrs). Stop in Kokand, the former capital of the powerful Kokand Khanate that once dominated the whole Fergana Valley. After 4.5 hours, arrive in Rishtan – center of unique ceramic production in Uzbekistan that uses a turquoise–ultramarine palette that differs entirely from colors in other Central Asian regions. Rishtan is the only place in Central Asia where the well–known "ishkor" glaze is still used.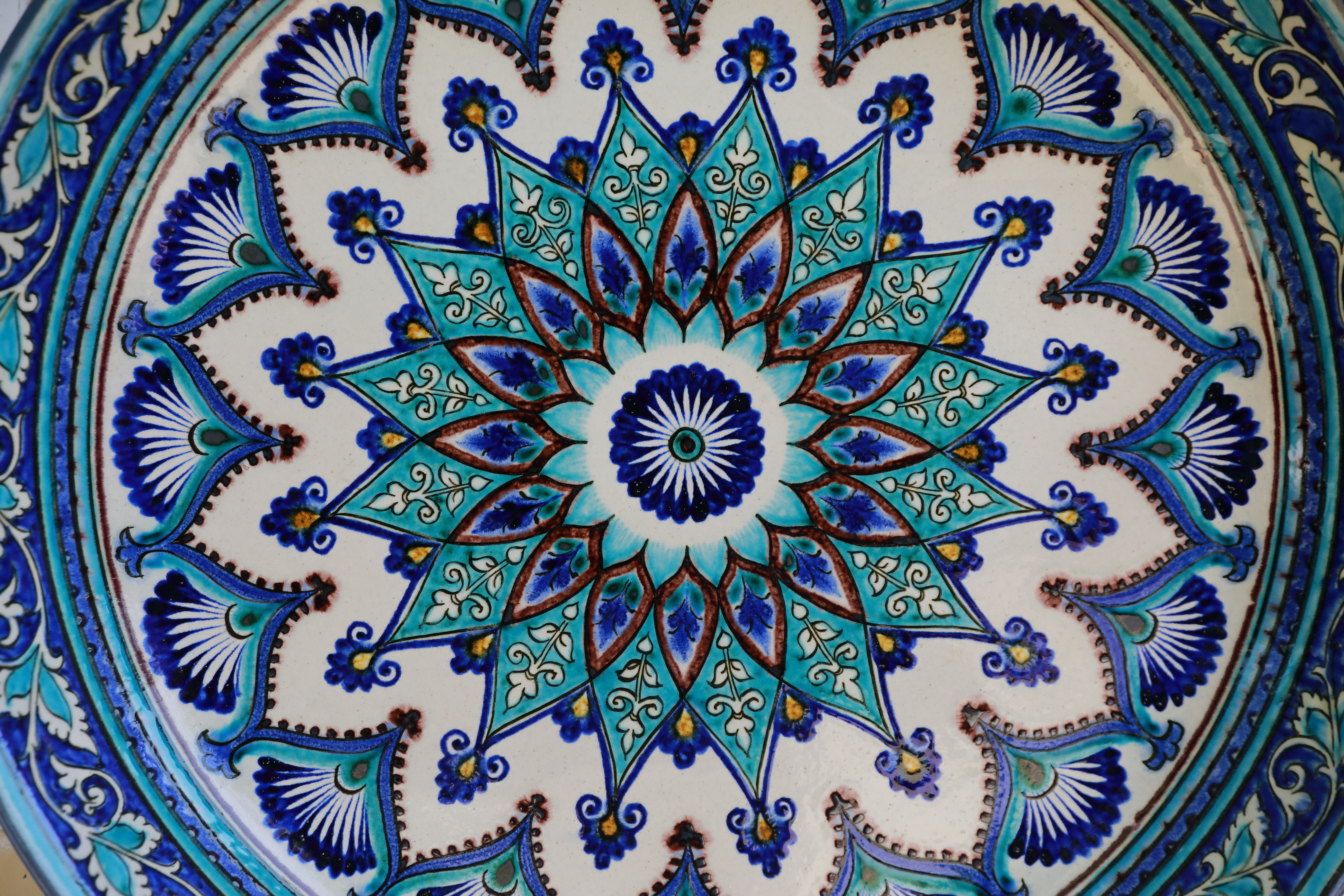 Next, see the process of handmade production of Han-Atlas silk fabric at the Yodgorlik Factory. Located in the southeast of Fergana Valley, caravan routes connected Europe with East Asia via Margilan. From time immemorial, the people of Margilan have been busy manufacturing beautiful silk fabrics, making Margilan city well-known all over the world. Continue to Fergana (90 km/56 miles/approx. 1-1.5 hr).
Kyrgyzstan
Day 13 - Drive to Osh - Fly to Bishkek
Start the day with a visit to Al Fargoniy Monument and Square and the modern city before driving to Dostlick, on the Uzbek- Kyrgyz border. Then drive to Osh, one of the oldest towns in Central Asia, on the southeast edge of the Fergana Valley at the northern foot of the Pamir -Alai mountain range.
The age of the city can be judged from the rock drawings and inscriptions found on the northern slope of the four-headed Suleiman Mountain. This mountain is located in the center of Osh and is a unique historical and architectural monument. The mountain was defense from enemies and its presence governed the unusual layout of the ancient city of Osh.
Visitors always love visiting the bazaar in Osh with its distinct oriental colors and the aromatic smells of spices and fruits. In the afternoon, visit Suleiman Mount, the mosque of Babur, and browse the national bazaar before taking an evening flight to Bishkek.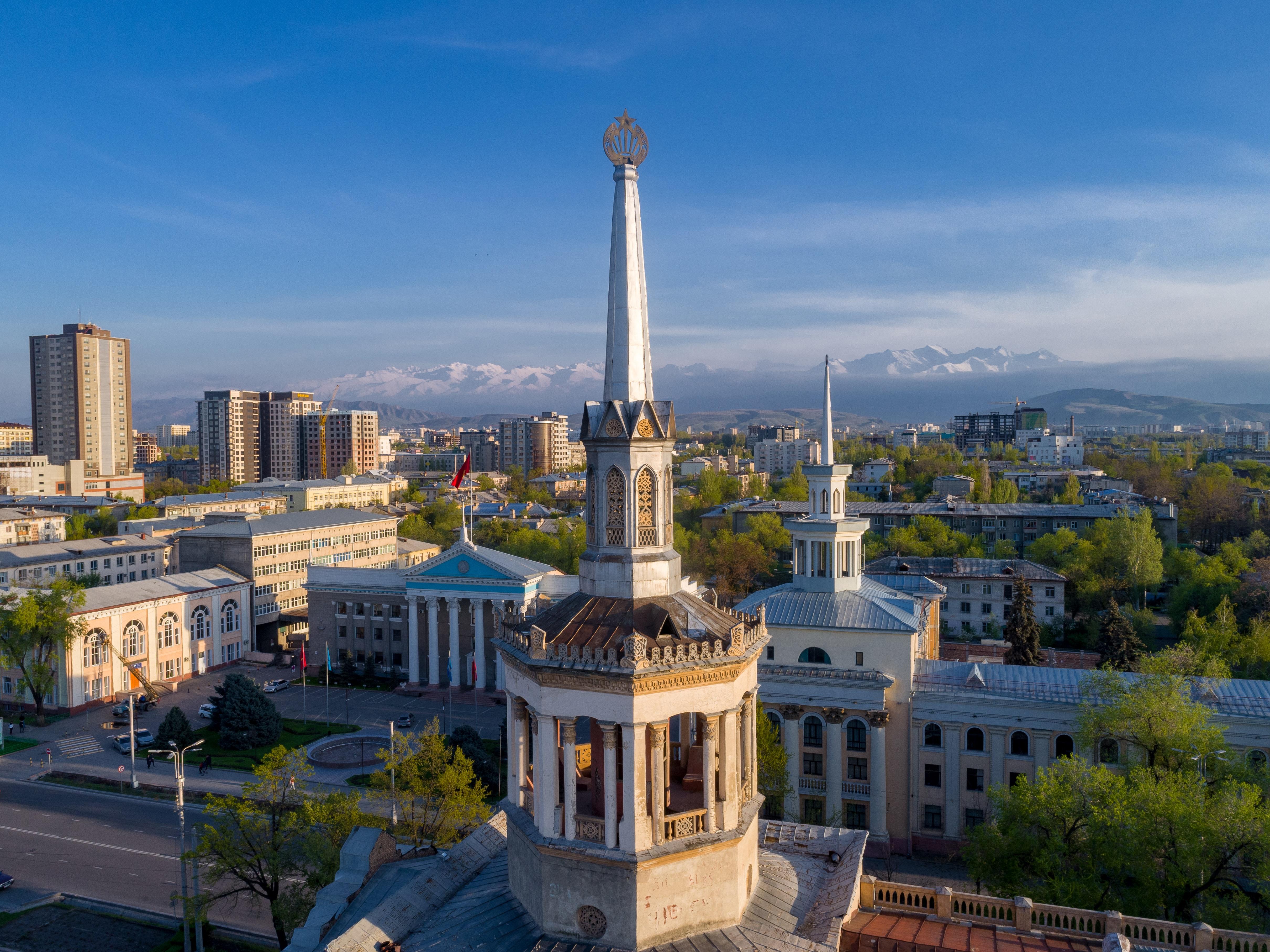 Day 14 - Bishkek Sightseeing
Bishkek is located where the Kazakh steppe meets the foothills of the majestic snow-capped TienShan mountains. The city contains about 20 parks, one of the largest being the Dubovyi (Oak) Park.
Enjoy a relaxed morning and then walk around the city to best take in the offerings. Sites to visit include: Ala-Too Square, The National Museum of History, Frunze House, and The Art Museum.
Day 15 - Chon-Kemin Gorge
On the way to Chon-Kemin Gorgem stop at Burana tower (1.5 hrs from Bishkek). Nowadays it is a museum complex which includes the tower itself, reconstructions of mausoleums found on the site, remains of a citadel, collection of balbals (grave stones used by nomadic Turkic peoples), petroglyphs (stone carvings) and a small museum.
Continue 1.5 hr drive to Chon Kemin, a quiet valley with several small villages and farmers' lands surrounded by magnificent mountains and fir forest. Sit on the doorstep and watch time pass by with a pot of tea. Enjoy this beautiful gorge!
Day 16 - Chon-Kemin – Karakol
We drive along the southern shore of the Issyk-Kul Lake. The lake sits in a hollow surrounded by snowcapped peaks of Terskei and Kungei Ala-Tau mountain ranges at the altitude of 1600 m. The Lake is 180 km long, 60 km wide and 700 m deep. 134 streams and rivers flow into the lake but none flows out, explained by underwater tectonic activity.
After approx. 1-1.5 hr drive we stop in Bokonbaevo village where we attend a demonstration of a traditional form of falconry found throughout Central Asia – hunting with eagles. Eagle hunting plays a key role in nomadic lifestyle and is widely used not only during national competitions and shows but also throughout routine life of local people.
Afterwards, continue approx. 2 hrs to Jeti-Oguz Gorge. Here admire fantastic rock formations made of red sandstone, local pastures have long been used by shepherds to graze flocks of sheep and herds of horses. Onward 30 more minutes to Karakol.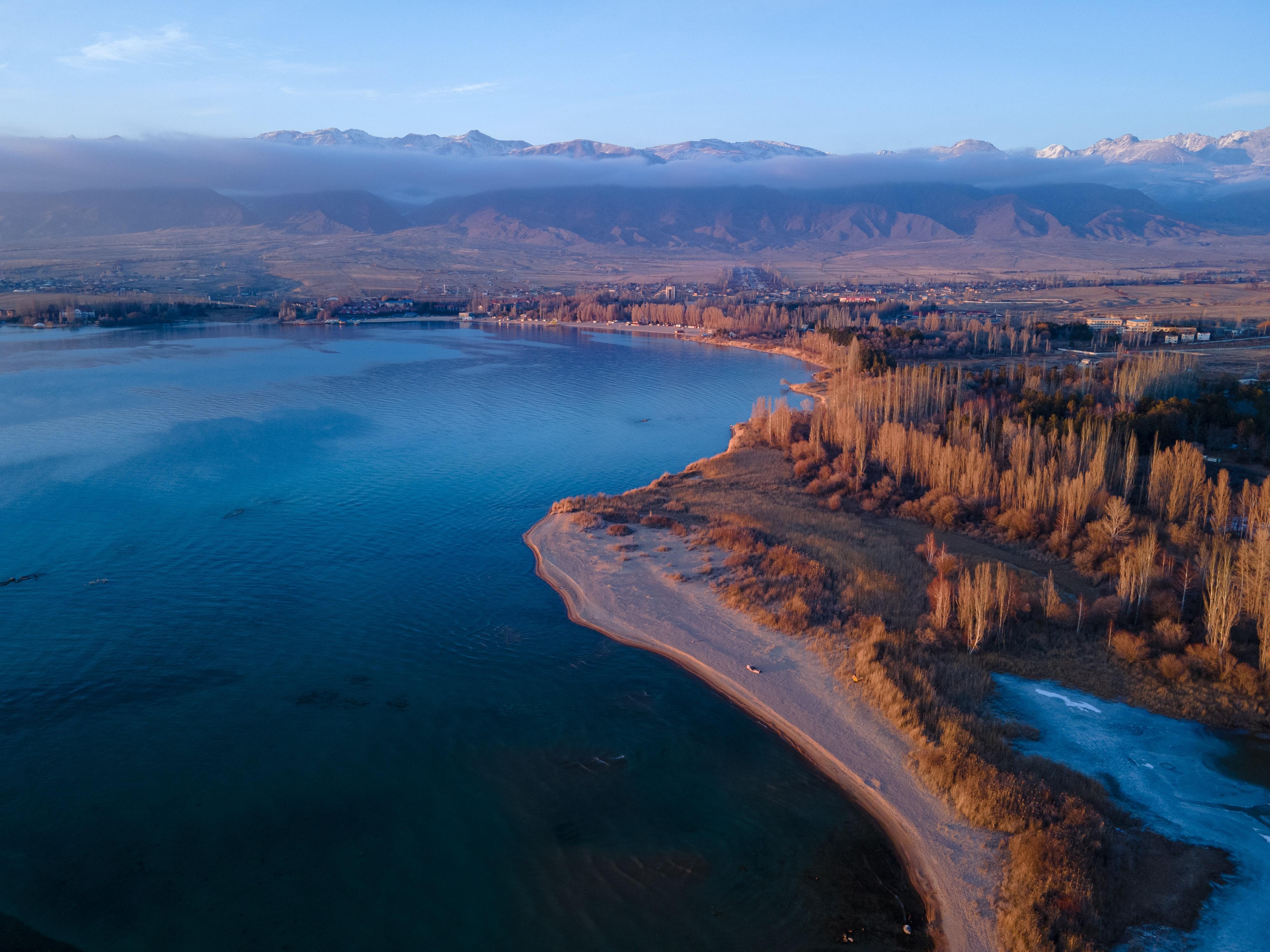 Day 17 - Karakol - Issyk-Kul Lake
The atmosphere of Karakol town will bring you hundred years back. Enjoy a two-hour city tour to see Old Russian Style houses, Russian Orthodox Church, Dungan Mosque, and Karakol Bazaar. Proceed along the northern shore of Issyk-Kul Lake (approx. 2 hrs). Enjoy peaceful lakeside recreation at your own leisure in the evening
Day 18 - Visit Cholpon-Ata & drive to Bishkek
Drive approx. 15 minutes to Cholpon-Ata. Here, visit the petroglyphs - a large open-air collection of rock carvings sometimes referred to as a Stone Garden to explore a collection of stone balbals, stone inscriptions, stone circles and a spectacular panorama of the Cholpon-Ata bay of Issyk-Kul Lake.
Later, visit Cholpon-Alta Museum of History showing a wide collection of national embroidery. Transfer to Karakol along beautiful landscapes of the lake and mountains. The town was founded in 1869 and constructed in an old Russian style. Continue 3 hours to Bishkek and attend a traditional Folklore show in the evening with artists demonstrating different national musical instruments and techniques.
Day 19 - Depart Bishkek
Today is the last day of your Silk Road exploration. Depart from Bishkek airport.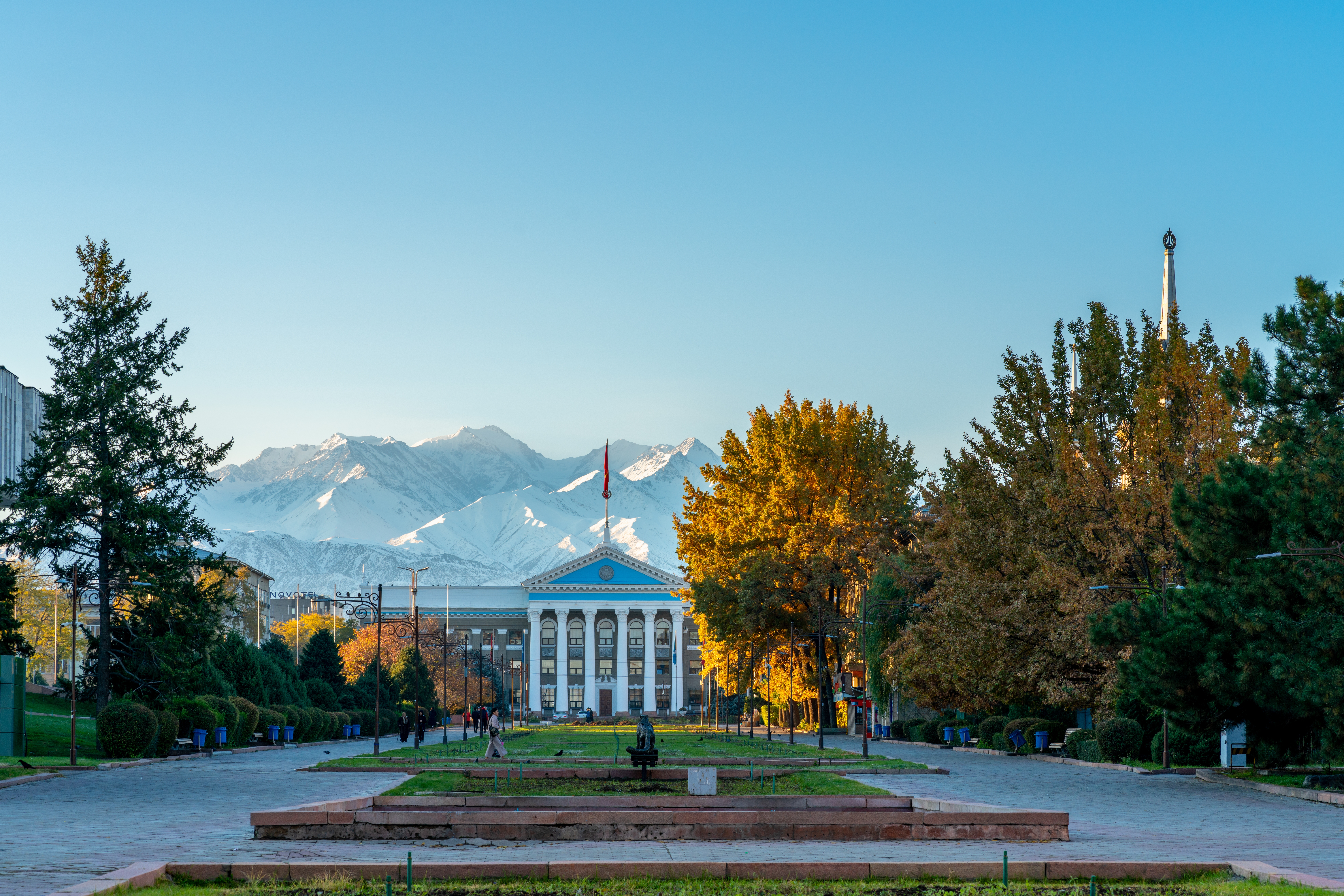 This itinerary was developed in collaboration with here as part of a capacity building initiative for the Silk Road World Heritage Journeys project.