Javaheri Historical House
Nestled in the neighbourhoods behind Masjid e Jame sits an Iranian house turned into an artisan handicraft workshop.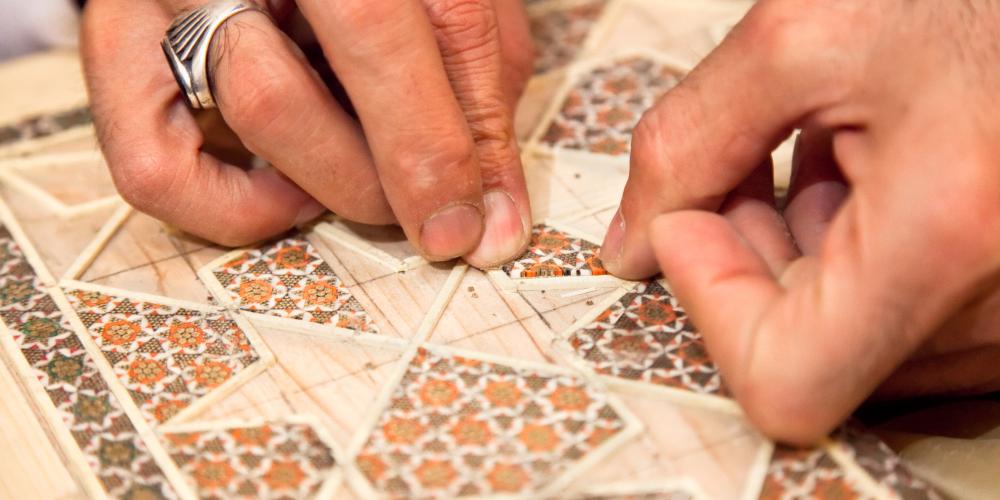 Take a five minute walk away from Masjid-e Jame into the sprawling neighbourhoods of Jaharian Street, one of the oldest streets in Isfahan. You will be welcomed by an old wooden door and will be transcended back to the Qatar period.
The square house surrounds a square courtyard which surrounds an old blue pool. The stained glass is a glorious sight and catches the light in a captivating way. From the second floor you can catch a glimpse of the towering minarets of the neighbouring Dardasht minarets.
Registered by the Cultural Heritage Office in 2005, the historic house became an art and handicraft workshop in 2007. In the process it was transformed into a muse inspired hotspot for some of the city's most talented artists.
Make your way into the active rooms and meet one of the local artists. Talents include woodworking, glass blowing, enamelling, and metalworking to name a few. If you are lucky, you will be given a chance to try your hand at one of the many artforms.
The elegance of the house is enriched by the charm of the hardworking artists. This house is worth a visit if you want to see the hard work poured into the handicrafts found around the city.
Visit
Javaheri Historical House
Hours
Closed on Fridays
Open 9am-5pm Saturday-Thursday