National Palace of Sintra
The National Palace of Sintra, located in the historic town centre, was inhabited for nearly eight centuries by the Portuguese monarchy and its court. It was much used, particularly during the Middle Ages, as a hunting retreat and summer resort, as well as a refuge from outbreaks of disease in the capital.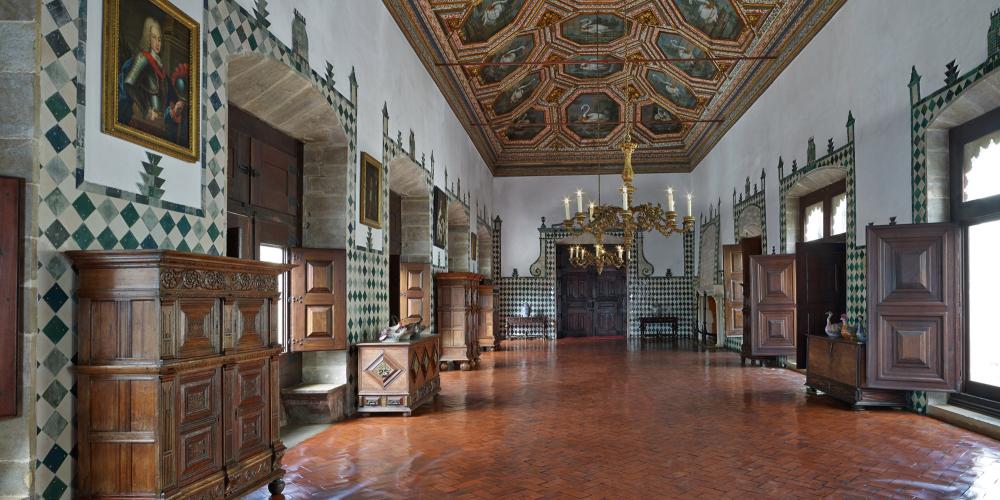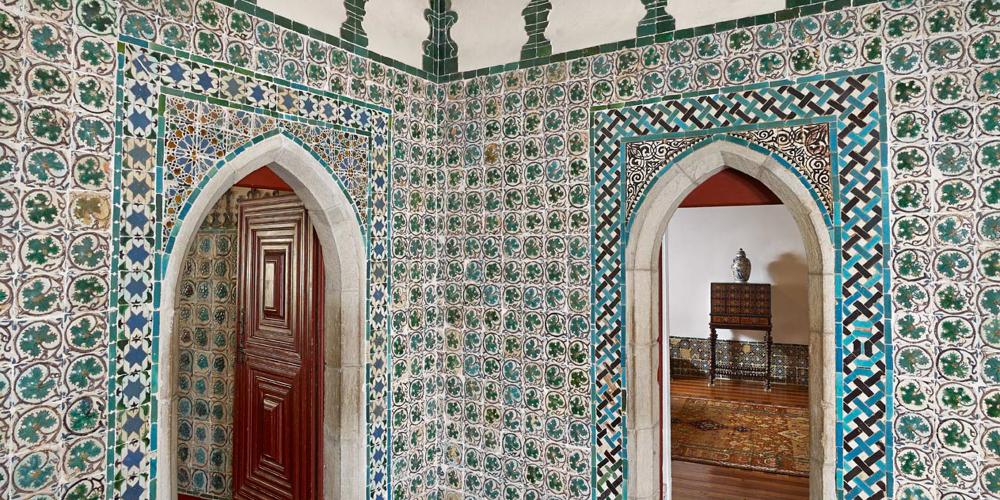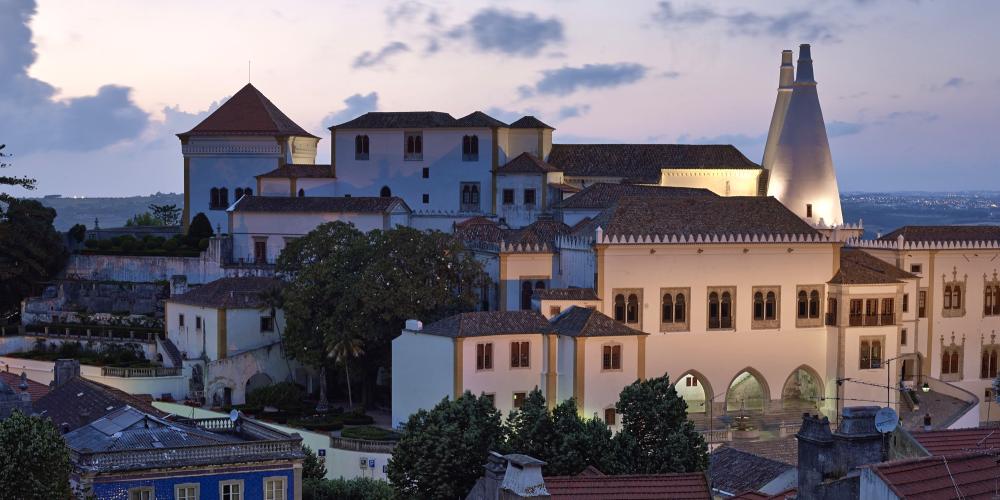 The Palace of Sintra combines various architectural styles, including Gothic and Manueline elements, together with the Mudéjar style—a harmonious combination of Muslim and Christian artistic influences—immediately apparent in the exuberant Hispano-Moresque tiling. The collections displayed here bear artistic witness to the multicultural nature of Portuguese decorative art between the 16th and 18th centuries.
The first reference to the 'Paço de Sintra', alongside the castle which faces it high up in the mountains, was made by the tenth-century Arab geographer, Al-Bakrî. In 1147, following the conquest of Lisbon by King Afonso Henriques, the Almoravides of Sintra surrendered, ending more than three centuries of Muslim domination.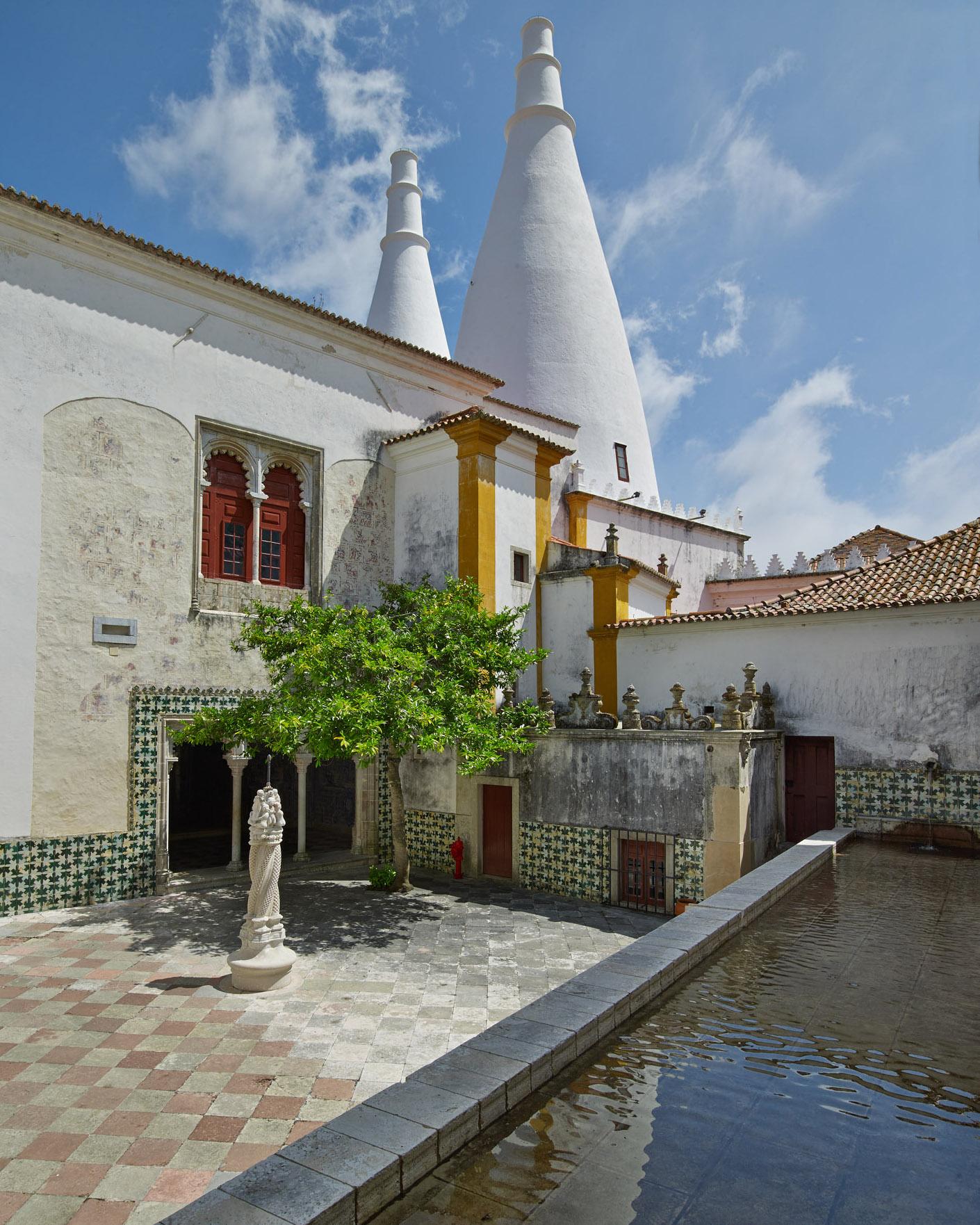 The present day Palace, located on the so-called Chão da Oliva or Olive Ground, is sited on the approximate location of the residence of the Moorish governors, or Walis, of the time. Nothing remains of this residence.
The present form of the National Palace of Sintra is essentially the result of works initiated by King Dinis (1261-1325)—who was responsible for the building of the Chapel–, King João I (1356-1433))—who arranged his quarters around the Central Patio and constructed the present Swan Room, which is the oldest state room in the Portuguese palaces, and adjoining rooms)—and King Manuel I (1469-1521), who added the imposing Room of the Coats of Arms, featuring, under the dome, King Manuel's coat of arms, as well as his sons' and the ones of seventy two important noble families, and the East Wing.
The building was severely affected by the 1755 earthquake, after which it was rebuilt, maintaining the current day silhouette that dates back to the mid-sixteenth century.
The 1910 revolution brought an abrupt end to the use of this palace as a royal residence. Queen Maria Pia, widow of King Luís was the last royal inhabitant of the Palace, from where she left to go into exile.
Visit
National Palace of Sintra
Hours
Open every day of the year, except December 25th and January 1st
9:30 – 18:00, last ticket and last admission 17:30
Pricing
Ticket for adults (18 – 64 yrs): € 9
Ticket for youths (6 – 17 yrs): € 7,5
Ticket for seniors (over 65 yrs): € 7,5
Family ticket (2 adults + 2 youths): € 32
To benefit from a reduction on your visit to several sites, you can buy combined tickets for several sites.