New Palace in Sanssouci Park
In strong contrast to the intimate Sanssouci Palace, the New Palace served as the venue for official, representational needs. Built by King Frederick II at the western end of Sanssouci Park, it is the largest and most impressive complex in Sanssouci.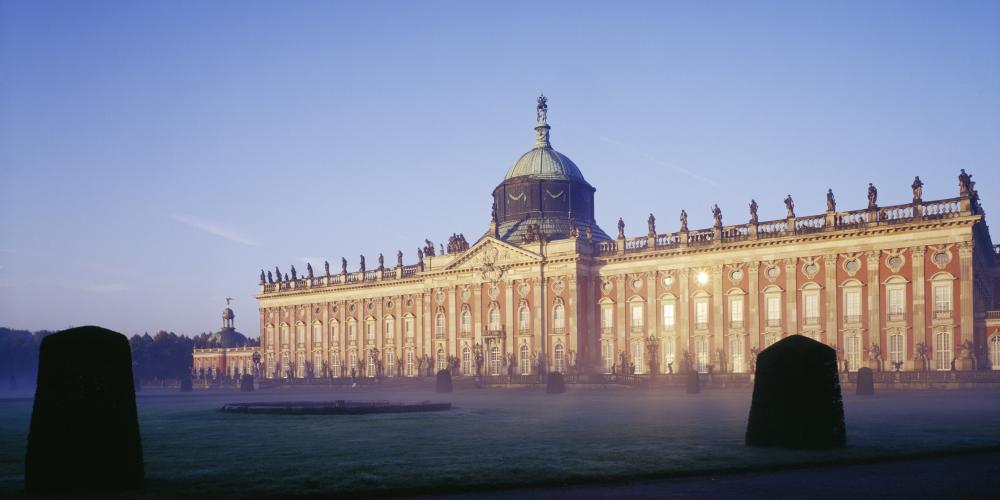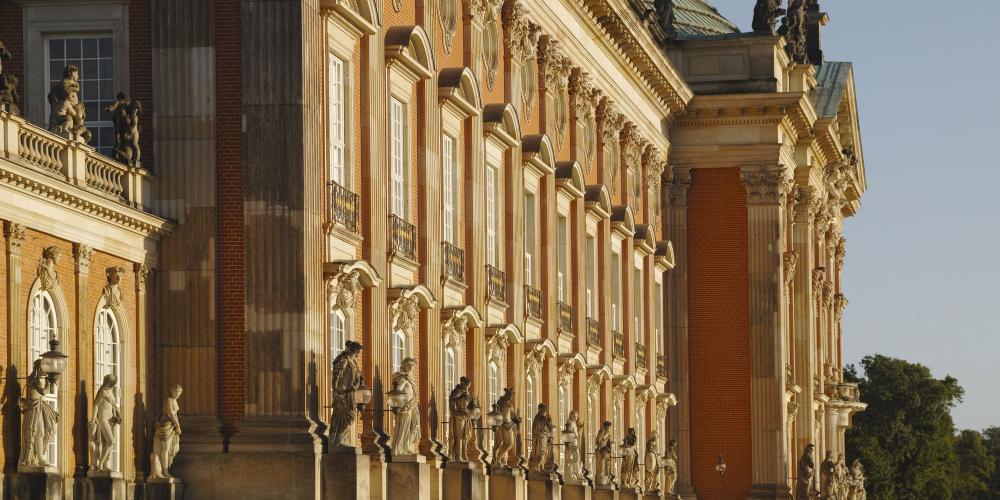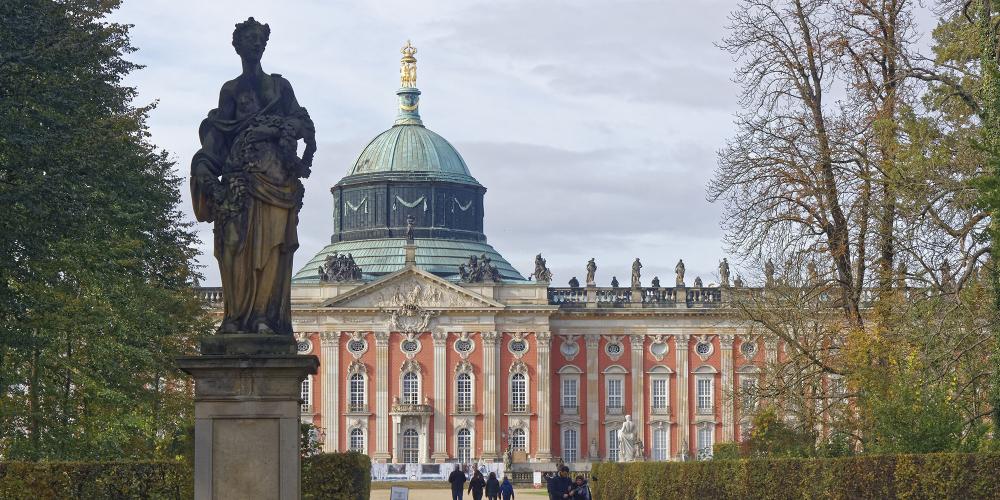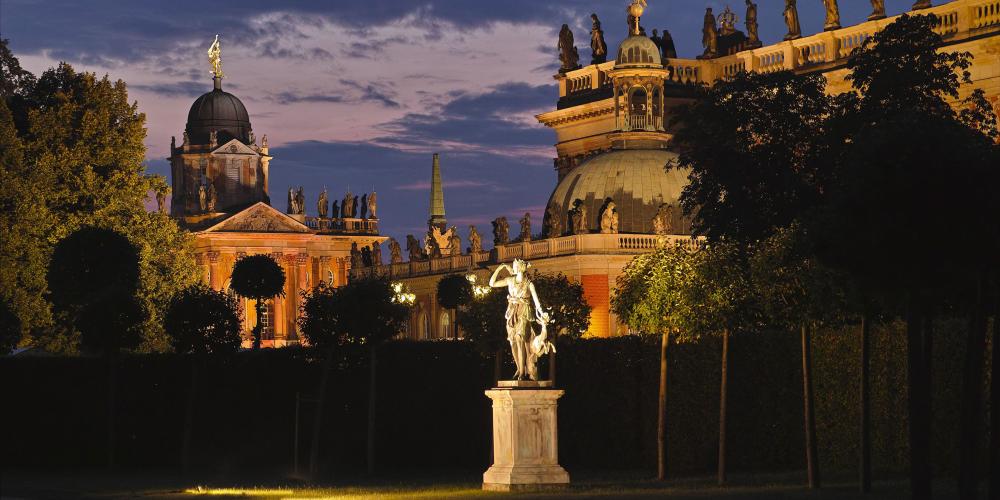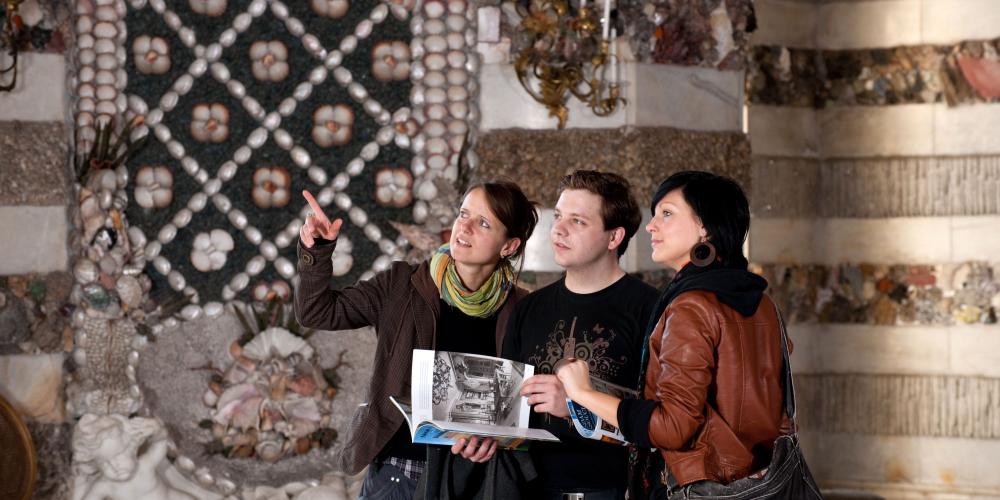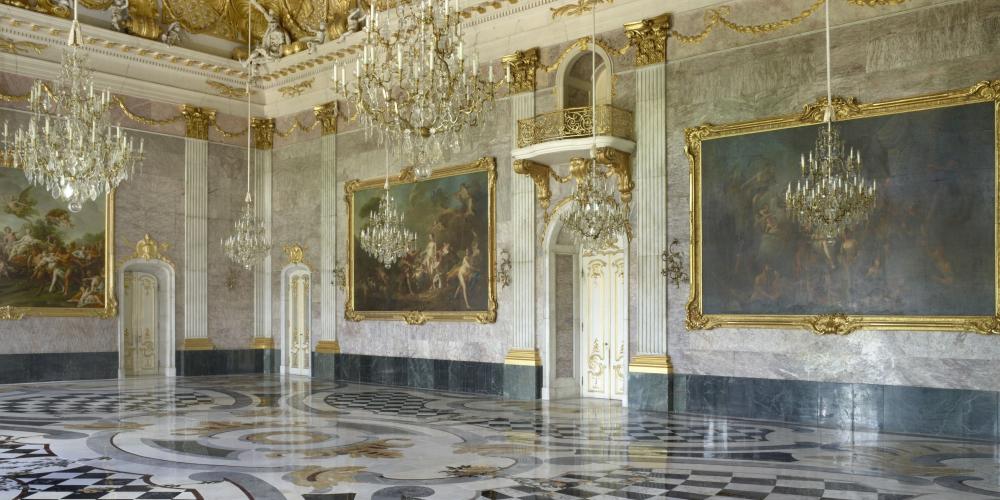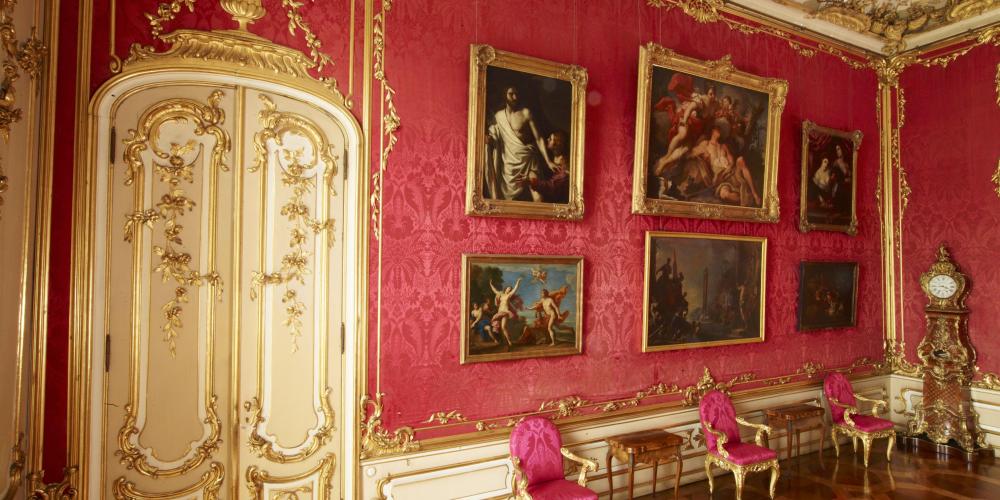 The Baroque palace gained prominence for its majestic interiors featuring the Marble Hall (Marmorsaal), Grotto Hall (Grottensaal), the Concert Room (Konzertzimmer), and Palace Theatre. Selected works of 18th century art can be viewed in their original context. The New Palace, built from 1763 to 1769, is located at the far end of Hauptallee (the main promenade) in Sanssouci Park, making it the focus of the park.
The king rarely stayed here. Instead the palace was mostly used as guest apartments and for celebrations. The recently restored Lower Royal Suite, with its Braided Room, Concert Room, and Oval Cabinet, presents one of Europe's most luxurious interior décors. Later, William II, the last German emperor, and his family used the New Palace as their preferred place of residence.
The New Palace, with over 200 rooms, is the last royal residence Frederick the Great built in his park. It was a demonstration of the Prussian state's undiminished power and wealth following the Seven Years' War (1756–1763).
Visit
New Palace in Sanssouci Park
Hours
January – March:
Monday: 10:00 - 16:30
Tuesday: closed
Wednesday - Sunday: 10:00 - 16:30
April – October:
Monday: 10:00 - 17:30
Tuesday: closed
Wednesday - Sunday: 10:00 - 17:30
November - December:
Monday: 10:00 - 16:30
Tuesday: closed
On public holidays, weekend opening hours apply unless otherwise stated.
Last admission: 30 minutes before closing.
Visits to New Palace are bound to fixed admission times. Same-day tickets are available for purchase at the Visitor's Center at the New Palace as of 10:00.
Summer season: Both guided tours and audio guides are available.
Winter season: Can only be viewed with a guided tour.
Pricing
sanssouci+ Ticket
Price: € 19.00 Reduced: € 14.00
Buy tickets online
sanssouci+ Family Ticket
Price: € 49.00
Annual Pass for the Palaces
Price: € 60.00 reduced: € 40.00
sanssouci+ Ticket and sanssouci+ Family Ticket are valid for one visit to all of the SPSG palaces in Potsdam, including Sanssouci Palace, on a single day. In the Belvedere Pfingstberg, ticket owners are granted the reduced rate. When purchasing a ticket sanssouci+ Online a fixed admission time (time-slot) in Sanssouci Palace is booked.