Orangery Palace in Sanssouci Park
The Orangery Palace was the last and largest palace built in Sanssouci Park. Built by Frederick William IV, the "Romantic on the throne," the imposing structure has plant halls, a central palace, sculptures, fountains, arcades, and terraces evoking a Mediterranean flair.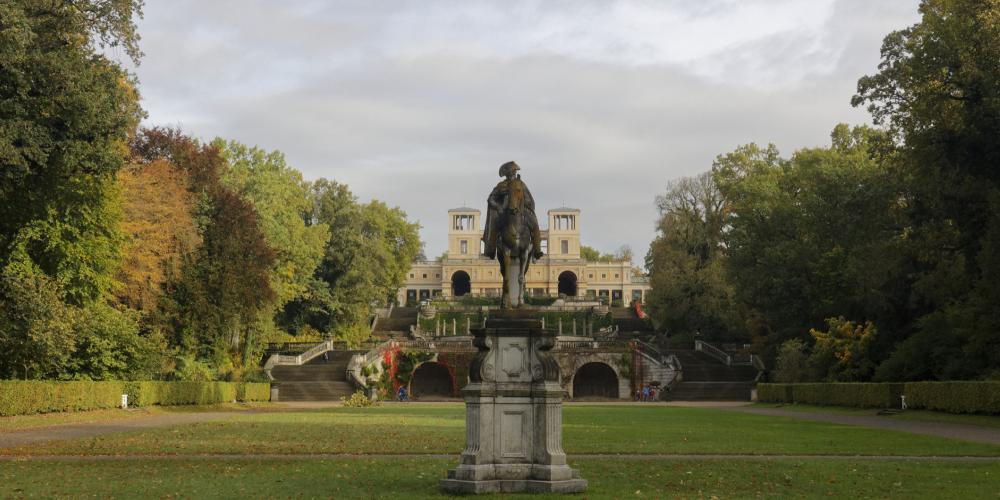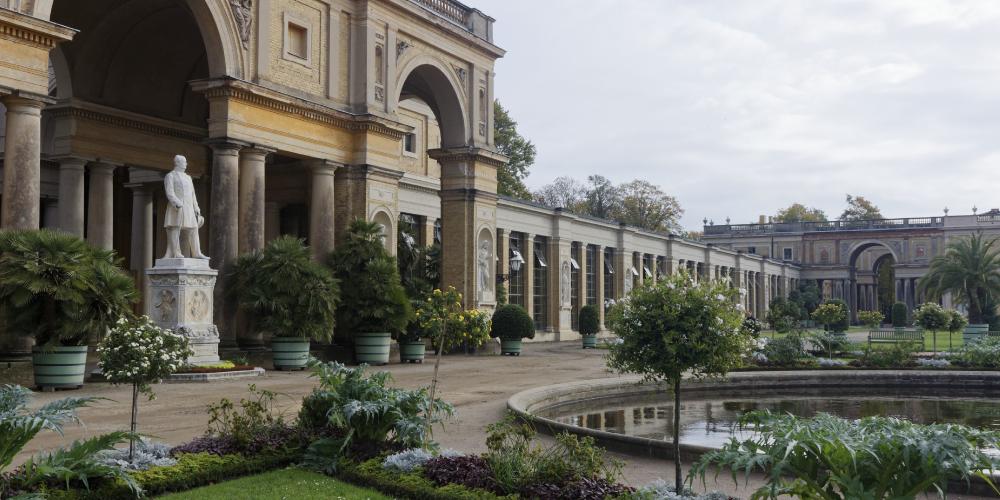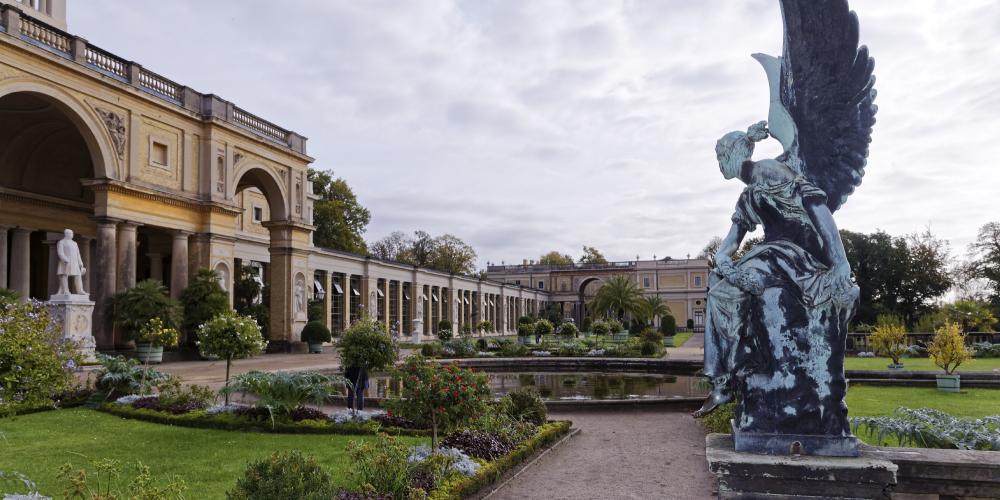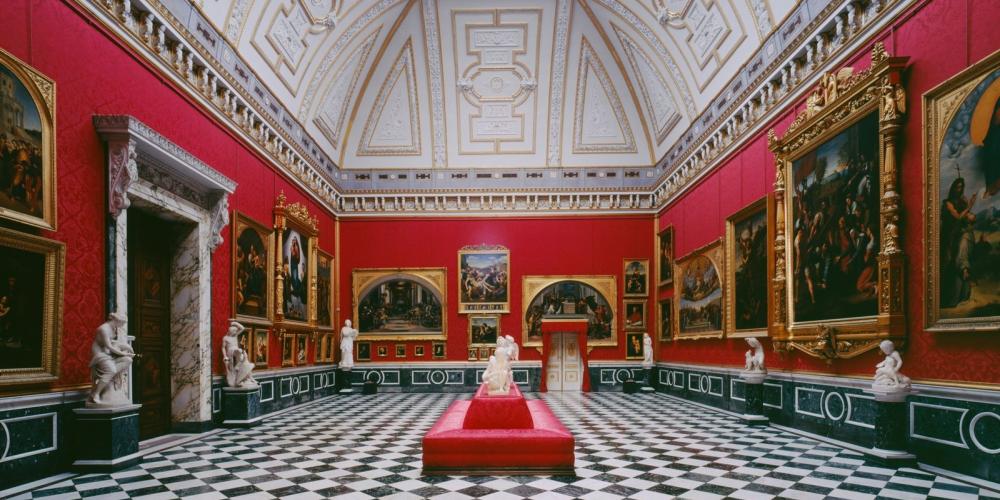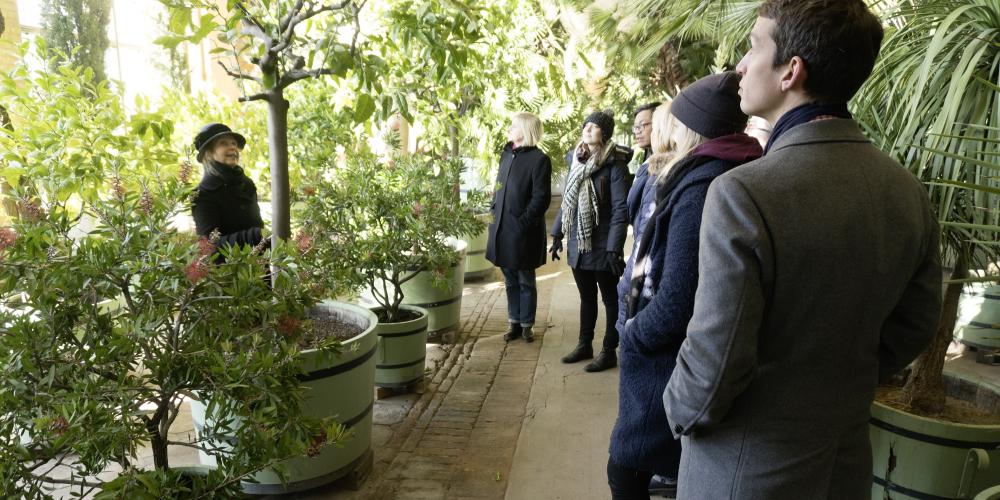 Orangery Palace in Sanssouci Park was conceived as the high point of a so-called "Road of Triumph" leading up to the Belvedere on Klausberg. The palace includes royal halls with marble statues, a servants' lodging, and two halls to accommodate potted plants. The ensemble was created in the years between 1851 and 1864. During the long phase of construction, the king contributed numerous designs, and employed several architects including Ludwig Persius, August Stüler, and Ludwig Ferdinand Hesse.
In addition to the lateral plant halls, which today still serve as the winter storage for frost-sensitive potted plants, the building—over 300-metres-long—also housed royal suites and servants' quarters. If you stay in Potsdam during the winter months, be sure to pay the Orangery a visit and witness the long tradition of maintaining frost-sensitive plants over the winter. The plant halls are among the largest indoor, special-events locations (fitting up 1,000 people per hall) in the Berlin-Brandenburg region.
Visit
Orangery Palace in Sanssouci Park
Hours
January - March:
Monday - Sunday: closed
April:
Monday - Friday: closed
Saturday/ Sunday: 10:00 - 17:30
May- October:
Monday : closed
Tuesday – Sunday: 10:00 - 17:30
November – December:
Monday - Sunday: closed
On public holidays, weekend opening hours apply unless otherwise stated.
April: Can only be viewed with a guided tour.
Mai – October: Tuesday – Friday: Can only be viewed with a guided tour; can also be viewed without a guided tour on weekends & holidays.
Last admission: 30 minutes before closing
Pricing
sanssouci+ Ticket
Price: € 19.00 Reduced: € 14.00
Buy tickets online
sanssouci+ Family Ticket
Price: € 49.00
Annual Pass for the Palaces
Price: € 60.00 Reduced: € 40.00
Photo Permit for the Palaces
Valid for one day for all palaces.
Only for private use. Not for publication.
No flash, no tripods.
Price: € 3.00