Partnerships
The visitor experience at a specific site and destination will be impacted by many factors, some of which are beyond the site management team's control.
Sites sit within broader international, national and local tourism and Government frameworks and context. Whilst individual sites may not have direct control of the opportunities and challenges being considered by the partnership, individual sites can have considerable influence.
Connecting with a diverse range of stakeholders is of critical importance, as collaborative partnerships bring together a broad range of interests and agendas essential to delivering a quality and seamless visitor experience.
The pooling of financial and physical resources directed towards a common challenge is cost effective and more likely to succeed than working in isolation.
The visitor consumes and considers the merit of an individual site as part of a broader travel experience. Any failure or weakness in the experience will impact on the perception of the site regardless if the problem is within the management control of the site or not.
Partnerships are critical to consider the total visitor experience. In this context no individual site is an island and cannot afford to work in isolation.
---
Partnerships - Marketing
CASE STUDY: Namibia North American Destination Marketing Campaign
This campaign partnership focused on North America travel trade to increase visitation to Namibia. Online tools were established to support the travel trade to sell and promote Namibia. The results achieved demonstrated the benefits of working in partnership.
Useful Links:
Solimar International
---
Partnerships - Governance Guidelines for thematic routes
The Governance of the thematic route should detail the framework of rules, relationships, systems and processes within and by which authority is exercised and controlled. In simple terms it is the mechanism by which those in control are held to account. Good corporate governance promotes confidence in all those involved and contributes to the partnership structure.
The recommended governance guidelines include:
The structure of any group, board, committee or working group that has oversight of the World Heritage Journeys initiative should be of appropriate size, composition, skills and commitment to add value and to discharge its duties effectively.

The governance entity should lay solid foundations for management and oversight of the routes. The entity should establish and disclose their roles and responsibilities and how their performance is monitored and evaluated.

Act ethically and responsibly.

Safeguard integrity through regular and accurate reporting.

Make available timely, balanced and accurate reports that detail matters concerning the heritage routes.

Respect the rights of individual World Heritage sites and provide each site with appropriate information and reports to allow them to exercise those rights effectively and participate with knowledge.

Recognise and manage risk by establishing a risk management framework.

Enter into partnerships and contracts responsibly and fairly. Maintain a close working relationship with UNESCO.
Good governance is putting people at the centre of the development process.
In the end, good governance never depends solely on rules and laws but upon the personal qualities of those who govern. Selecting the right people with the right motivation will always remain critically important.
Good governance is also linked closely to effective monitoring and evaluation.
---
Partnerships - Improved Governance through Monitoring and Evaluation
From a governance perspective, the value of monitoring and evaluation comes from using the information collected and analysed to help improve performance.
Monitoring and evaluation can support policy development, budget decisions and strategic planning. Data collected through monitoring can provide evidence about the most cost-effective programs delivered thus shaping short and long-term strategies.
The indicators suggested in the following Destination Monitoring Framework require the establishment of base line indicators. Part of the role of the suggested monitoring framework is to measure progress, identify bottlenecks and issues that are impeding progress and initiate actions required in order to sustain progress towards the agreed performance measures.
---
Partnerships - Destination Monitoring Framework
To develop and manage a tourism destination sustainably it is important that all the partnership stakeholders agree to the relationship and understand the inter-relationship between their primary role and the performance of the destination.
One way to determine the 'health' and performance of a destination is to establish an agreed framework on points of significant impacts generated by visitors to the site and destination.
Surveying local communities and conducting focus groups captures visitor data and provides opportunity to analyse and gain genuine insight about World Heritage site perceptions from visitors and potential visitors. It also provides new directions and refinement of management practices and marketing strategies.
Partnerships with tourism agencies and academic institutions can assist and support managers to implement an effective Destination Monitoring Framework. Initial surveys of the community, visitors and potential visitors will establish the base line data to compare impact and performance over time.
Below is a suggested monitoring framework that addresses Community Perception, Quantitative and Qualitative Research. Each of the three areas in the framework will have to be agreed to and weighted by the partnership established to monitor impact and performance.
Key Performance Measures - Community Perception
The following set of Key Performance Measures can be used and adapted to survey local community members, stakeholders and World Heritage site staff using a simple Likert Scale survey (measuring level of agreement from 1 to 5). This is an effective way to measure the change in perception of tourism at the World Heritage site overtime.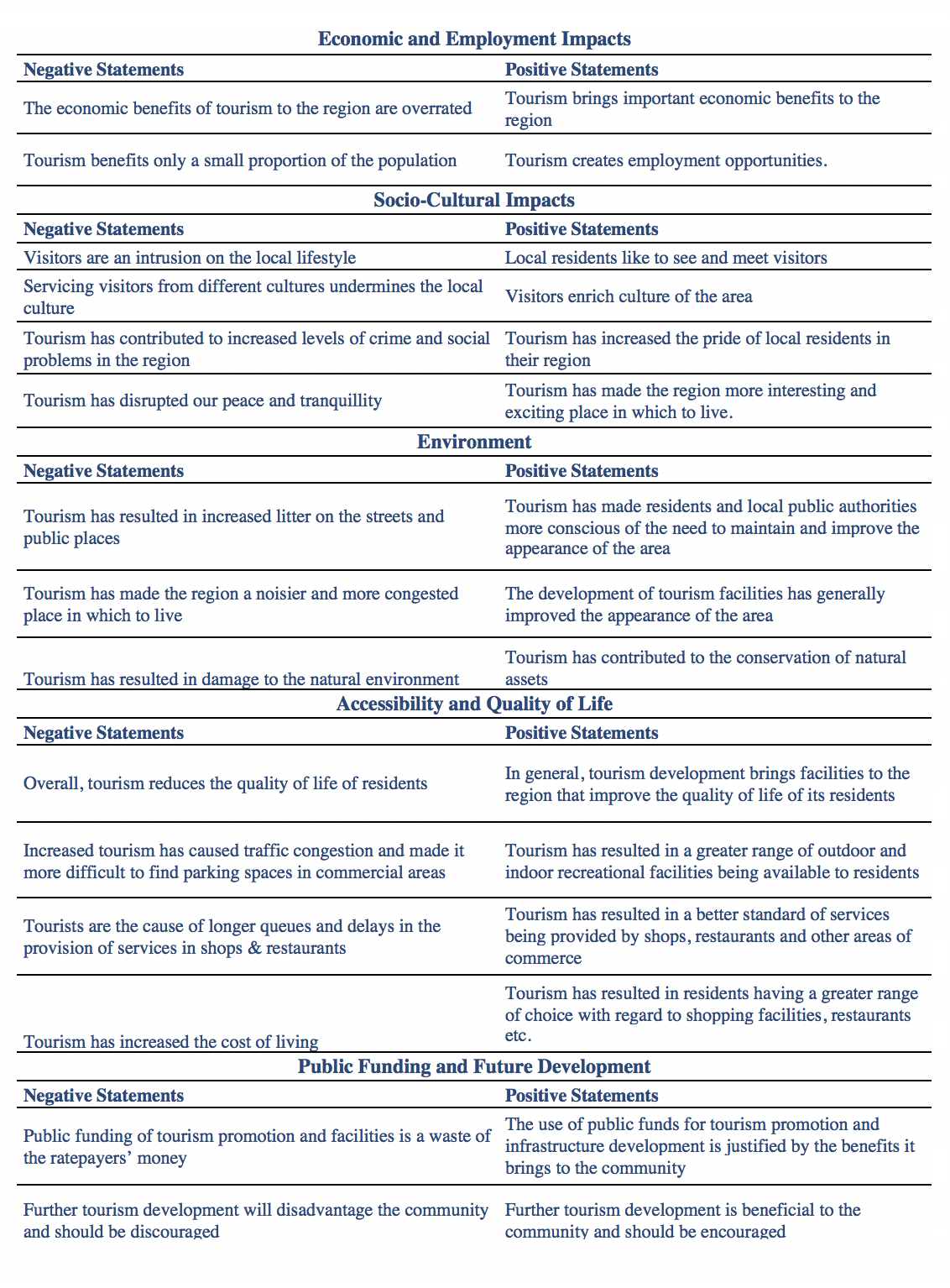 Key Performance Measures - Quantitative
The following categories demonstrate the types of statistical data that should be collected for monitoring changes in tourism and site management overtime, as well as for creating strategic development plans for tourism, site maintenance and conservation.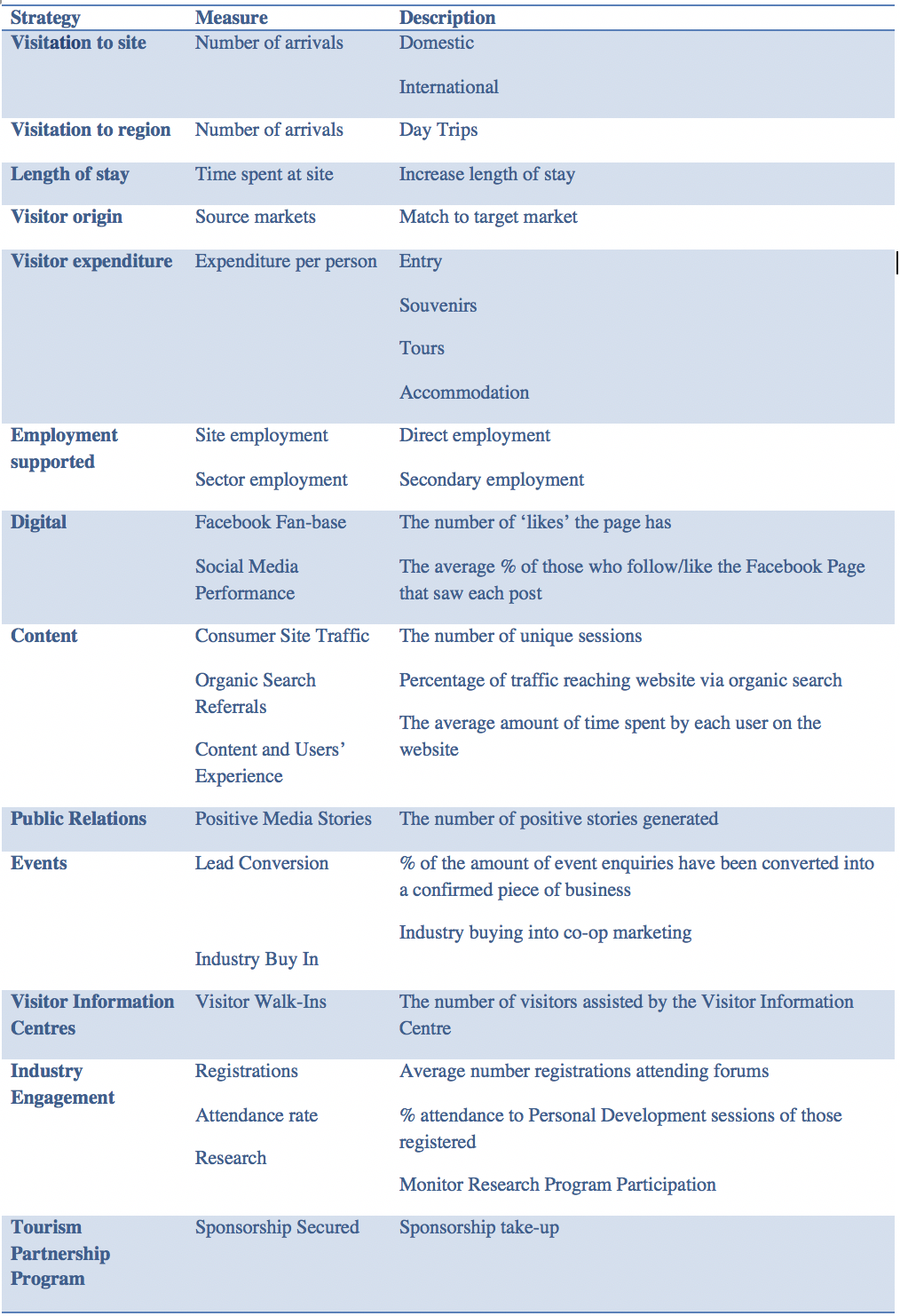 Key Performance Measures - Qualitative
Based on exit surveys, site managers can capture visitation data and gain key insights into visitor motivations and perceptions. Exit surveys can be a valuable tool to create a database of visitors for post visit contact. The following suggested framework could form the basis of understanding current visitors on topics including:
Identifying the sites' main competitors by obtaining details of other attractions visited.

Understanding the journey of the decision making process and determining key trigger points and actions that initiate booking and actual visitation (eg. price incentives, events, activations, holidays and celebrations etc.)

Understanding how the site is perceived amongst the wider target market and how this differs to recent visitor perceptions.

Analysing the experience had by recent visitors to evaluate the visitor experience.
The key questions to be answered either through surveys or focus group interviews for both recent visitors and non-visitors to the site:
Why did recent visitors choose to visit the site and why did others not?

How do potential visitors research, select and then plan their trip to the site?

How did their recent experience rate compared to pre-trip expectations?

What aspects and activities exceeded or failed to meet visitor expectations?

What would encourage visitors to advocate for and contribute to the site?
Partnerships - Policy Guidelines
Policies are clear statements of how an organisation intends to conduct its business (services and actions).
Policies provide a set of guiding principles to help with decision making.
Policies are established to:
Ensure that organizational values, goals and objectives are implemented.
Ensure that best practice in the organisation is understood and implemented.
Enable shared communication and establish a common understanding of particular terminology and practices that in turn ensures consistency of approach.
To co-ordinate the provision of services.
To address legal and governance responsibilities.
Policies should:
Set out the aim of the policy.
Explain why the policy was developed.
Detail who the policy applies to.
Details what is acceptable and unacceptable behaviour.
Details consequences of non-compliance.
Provides a date when the policy was developed or updated.
Examples of some policies that may be applicable to World Heritage sites are detailed below with a description of what they should include. Other policy needs will be determined over time.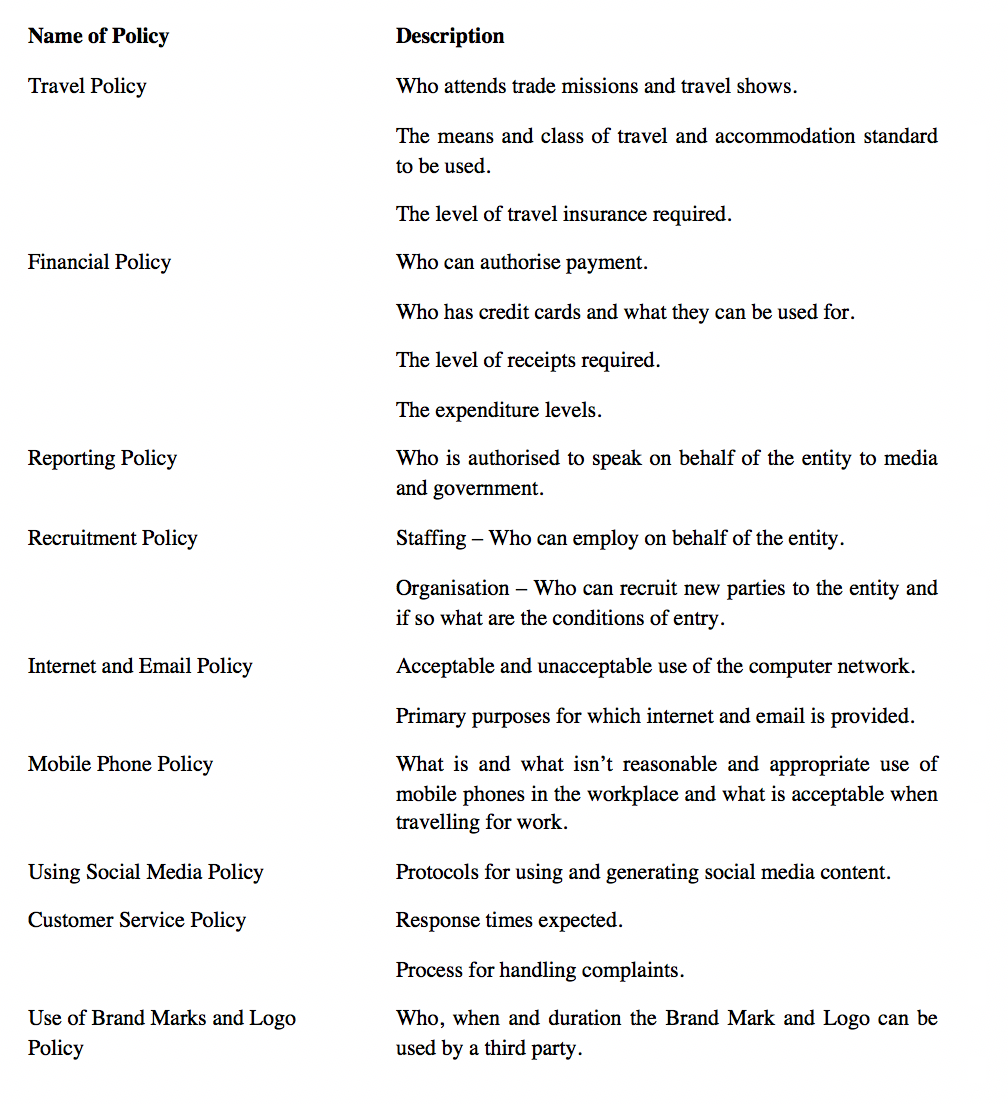 For each policy there will be procedures needed that detail how the policy will be implemented. Procedures should outline:
Who will do what.
What steps are required to implement policy.
What forms and documents are to be used.