Pre-visit: Dream
For many, holidays signify happiness, family connections, excitement, learning and experiencing new cultures and destinations.
Holidays represent a change from the norm, an escape from daily duties, routine and work. Imagery and storytelling are powerful tools in the dreaming phase of travel as they raise awareness, interest and desire to visit a destination and attraction. They must reflect the culture, brand and positioning of the destination and stimulate the potential visitor to the next stage of the travel cycle - to plan.
World Heritage branding creates an important incentive to motivate visitors to select a destination, stay longer and travel regionally beyond major tourism hubs. Destination Marketing Organizations (DMOs) can maximise the opportunity by giving their World Heritage sites a prominent position on their websites and marketing campaigns.
It is becoming increasingly important that World Heritage sites have a professional, attractive and mobile responsive website that inspires people to visit. According to TripAdvisor, 73% of travellers utilise online travel resources when choosing their holiday destination . In response this this, websites need to adequately present and reflect their exceptional visitor experience and offer. Images and stories must sell the promise of an experience that matches the needs and wants of the traveller. Imagery and comprehensive information in effective marketing and advertising is particularly important for Chinese and American visitors, with 66% of Chinese visitors valuing effective imagery and 55% of Americans wanting informative advice on the travel destination before making their online purchase.
Dream - Imagery and Stories
CASE STUDY: Wild Atlantic Way, Ireland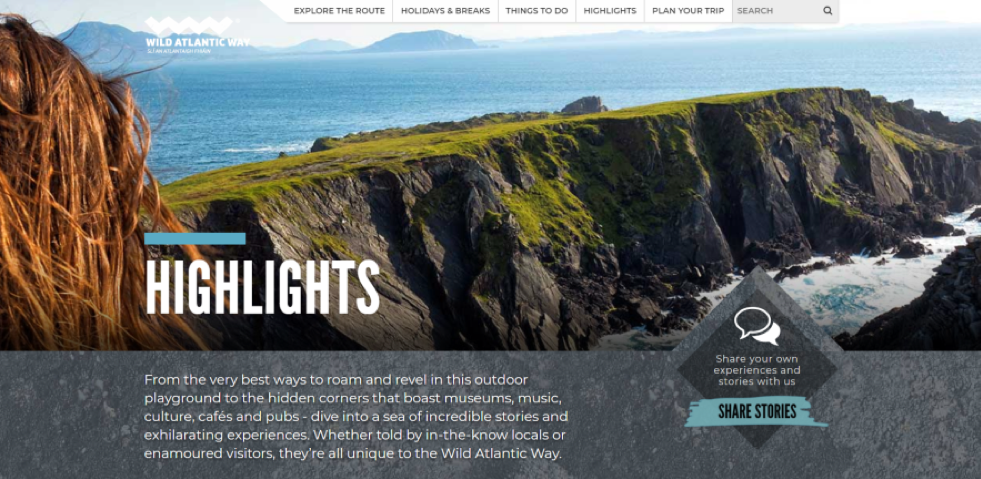 The Wild Atlantic Way is a journey of 2,500 km on the west coast of Ireland that features soaring cliffs, crashing seas and hidden corners. It is home to the Burren and the Cliffs of Moher UNESCO Global Geopark.
The official website features strong imagery throughout and specific section on highlights from the touring route.
Powerful images and strong branding are featured at various locations and points of entry along the journey. The airport at Kerry welcomes visitors with a gallery of Wild Atlantic Way imagery and the Wild Atlantic Way branding and content is consistently promoted via Tourism Ireland's website.
**Useful links: **
Wild Atlantic Way
Tourism Ireland
Dream - Inspiration and Service
CASE STUDY: 'Passages to Inspiration' campaign - Seabourn Cruise line

Seabourn Cruiselines has an official partnership with UNESCO World Heritage and Sustainable Tourism Programme and provides significant donations to support the programme's activities each year. To showcase and market this partnership, Seabourn used World Heritage as the focus of its 'Culture' video, which is part of a 4 episode video series for its 'Passages to Inspiration' campaign in collaboration with the Wall Street Journal. The 3 other videos include 'Taste', 'Adventure' and 'Design'. The videos feature vivid imagery of spectacular scenery of the World Heritage destinations as well as the luxury on-board experience. The videos focus fully on the visitor experience and include interviews with Seabourn staff and tour guides to re-emphasise the unique, authentic and personalised level of service they provide in the tours and on-board experiences.
Useful links:
Passages to Inspiration campaign
UNESCO & Seabourn
Dream - Humour and Storytelling
CASE STUDY: Secrets of Bruges Visit Bruges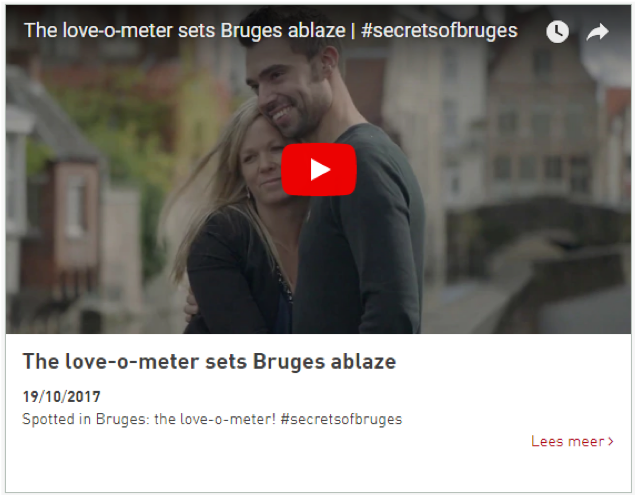 This video campaign highlights 10 quirky and unique experiences that visitors can have while exploring the UNESCO Heritage city of Bruges. It uses humour to entertain the audience, showing hidden secrets alongside iconic attractions. In the 'Love-O-Meter' video, the host invites international tourists to test how in love they are by using a 'Love-O-Meter' machine installed by the Mayor. Aimed at demonstrating that it is one of the world's most romantic cities, the campaign effectively highlights Bruges' diverse offerings for romance, delicious food, beer, chocolate and beautiful historical buildings. The tour guide stimulates all the senses through the use of imagery and storytelling.
Useful links:
Official Website
Dream - Video Imagery - Drone Footage
CASE STUDY: Czech Tourism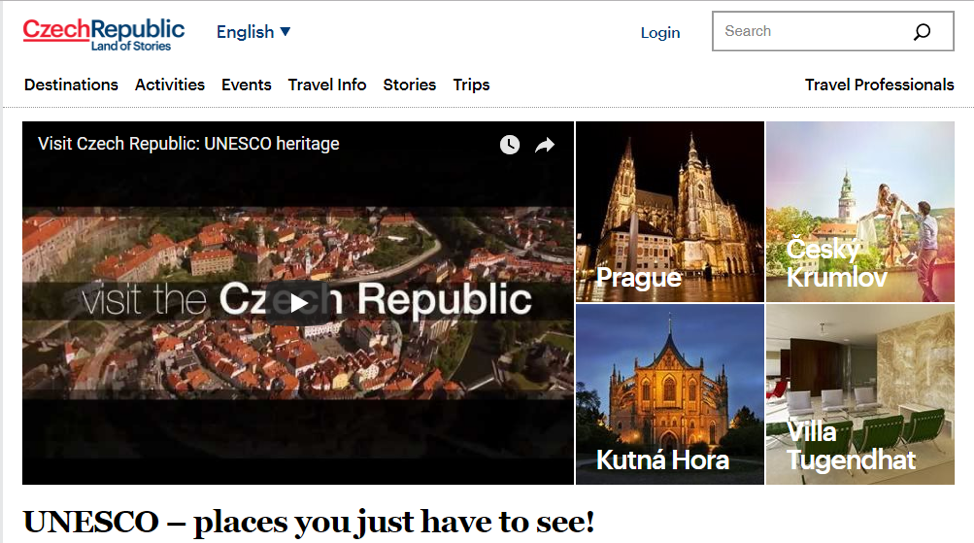 Featuring the 12 Czech UNESCO sites this YouTube video clip features extensive use of drone footage to inform and inspire the potential traveller. It is a good example of how quality video footage can be used to direct potential visitors toward the official website for the Czech Republic. Czech Tourism's campaigns have a strong focus on storytelling, and they promote the Czech Republic as the 'Land of Stories'.
Useful links:
Czech Tourism UNESCO World Heritage sites video
Czech Tourism
---
Pre-Visit: Plan
Planning is about tailoring and refining the proposed visit to match the needs and desires of the traveller and the travel party. Planning goes beyond simply choosing the destination. It considers each stage of the travel cycle and allows the traveller to make the most of their limited time at the destination by being prepared in advance, organised and well informed of the options and opportunities on offer.
Planning empowers the visitor with relevant information to make the most of their journey and site visit. To increase the planned length of stay to the longest duration possible, it is important to provide future visitors with inspiring, clear, up-to-date information on all the experiences at the World Heritage site, and preferably the broader destination(s).
Planning - Digital Platform and Application
CASE STUDY: Palace of Versailles, France
The website gives detailed information about getting to the palace, operational information, services available on site and nearby (dining, leisure and transport, retail, accommodation, special events and activities). The website details ticketing options, pricing and the packaged experiences available.
The needs of children, families and groups are also featured and highlighted on the website.
For visitors that have booked in advance, two days before their visit they will receive an email encouraging them to download the Versailles visitor app. The tailored email provides full visitor information, opening hours, up-to-date transport information and includes exhibits and events that will be taking place on the day they plan to visit.
Maps (positional and interactive) are detailed and downloadable and linked to strong, powerful still and moving imagery.
Useful Links:
Official website
Official app: Palace of Versailles Chateau de Versailles
Planning - Thematic Journeys and World Heritage
CASE STUDY: German National Tourism Board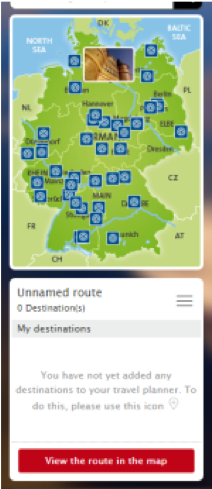 To promote travel to all of its World Heritage properties, the German National Tourism Board has designed eight different touring routes around the country focused on a variety of themes. Examples include the 'Roman remains and Bavarian cheer' route, the 'Visionaries and pioneering thinkers' route and 'Savoir vivre and sophistication' route. A detailed description of each route is provided, including the World Heritage sites included in each route, as well as length, suggested duration, overnight stay cities and related highlights and attractions.
Useful links:
GNTB World Heritage Routes
Planning - Recommended Experiences & Trip Planning Tool
Case study: Tourism Australia
Through it's Australia.com platform, Tourism Australia offers very comprehensive portal for up-to-date travel information. It segments the planning through stages: 1. Before you go; 2. Plan your trip; 3. While you're here; and has a specific section for the backpacker market. The information covers information on Australia's weather, health and safety, visas, road safety, history, culture and animals. The platform also offers a fully customised free planning tool so that people can input their dates and destinations and receive a day-by-day plan with bookable activities, accommodation and durations/distances. The trip is automatically saved so that when you return to the site, you can view and edit your plan.
Useful links:
Trip Planner tool
Facts and planning
---
Pre-Visit: Book
An increasingly critical element of the trip cycle is to provide ease of booking and clarity in the booking process. Mobile platforms are becoming the primary engagement and booking method. According to Skift research in 2017, the proportion of people booking their holiday online is growing, with 40% of online bookings completed using a mobile device expected . This includes all stages of the booking travel cycle; airlines, hotels, cruise trips and car rental services. As a result of this, digital platforms should link to transport and accommodation options. Bundling and packaging can also deliver a single point of contact that can greatly simplify the journey from the traveller's perspective. In recent years, the traveller is presented with a variety of booking options and the growth of online agents has significantly increased booking options.
Visitors are cautious when it comes to hitting the purchase button on digital platforms. Booking options must be clear, uncomplicated and secure.
Booking - Increasing Length of Stay and Cross-Promotion
CASE STUDY: Visit Britain Heritage Pass
This comprehensive website details available products for sale including English Heritage Overseas Visitor Pass and Historic Scotland Explorer Pass.
The site links to rail passes and makes the use of 'shopping basket' methodology for clear and simple payment. Major credit cards can be used to purchase and recommended products are featured widely. Visitors can also purchase National Express Bus / Coach travel with Airport connections and offers of mobile WiFi - wireless internet in Britain to extend the value of the site.
This site is an excellent example of cross promotion of services and the travel passes increase visitor length of stay and provide a framework for visitation.
Useful links:
Official website
Booking - Ticketing, Visitor Management and Enhancing the Visitor Experience
CASE STUDY: The Alhambra
This website delivers strong imagery and a clear navigation structure.
Of particular note is the clear ticketing function that includes timed entry and the encouragement of visitors to experience multiple attractions within the site to assist with visitor flow management, thus enhancing the visitor experience.
It should be noted that the number of visitors per day is regulated through the ticketing system, again assisting with the management of the visitor experience.
The site also links through to other attractions and guiding services.
Useful links:
Official website
---
Read more in the During the Visit Section.
---
**References: **
TripAdvisor (2016) TripBarometer 2016: Traveler Trends & Motivations Global Findings, TripAdvisor, available here (07-12-2017).
Expedia Media Services (2016) Connecting the Digital Dots: The Motivations and Mindset of Online Travelers, Expedia, available here (07-12-2017).
Sheivachman, A. (2017) Mobile Travel Booking will Reach 40 Percent of Online Sales in 2017, Skift, available here (08-12-2017).