St. Stephen's Cathedral
The first cathedral on Hvar was built in the early 17th century on the site of an earlier 9th century church. Th building, and square around it, were once the most important spaces on the island.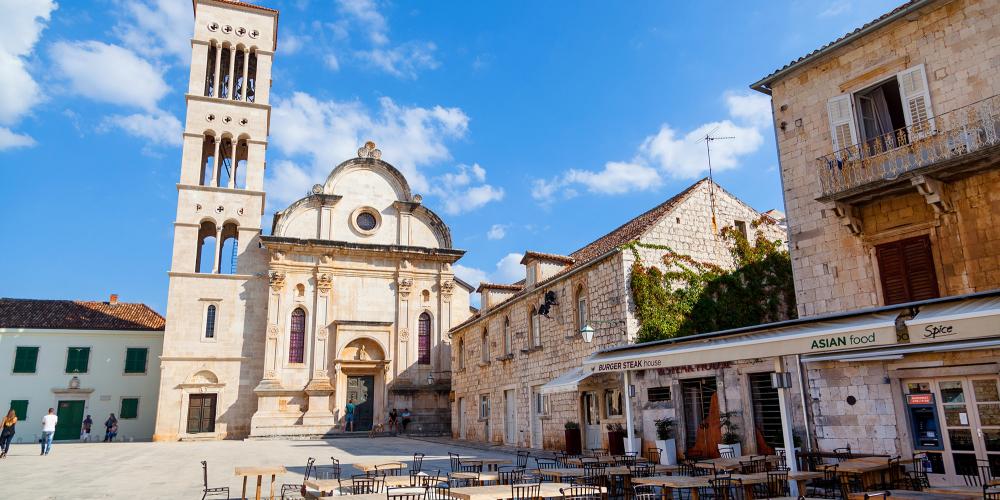 The area around St. Stephen's Cathedral is now relatively quiet. There was a time when this was the most important public place in the town of Hvar. It was the first cathedral on the island and it was here that sentences were passed and agreements were made.
The current St. Stephen's was built in 1605 on the site of an earlier church from the 9th century, which served as the cathedral for the Bishop of Hvar from 1147. It's a large three-nave basilica with a square apse in the Baroque style. It was built by local tradesmen and decorated—the interior, the altars, and paintings—by artists from Venice. An artistic highlight is a triptych from a 16th-century Venetian artist depicting St. Mary, St. John the Baptist, and St. Jerome.
As one of the most important historical buildings in Hvar, you can find links back to the ancient origins of the town. Inside the bell tower is a stone relief of a Roman ship from the second century. And in the southern part of the small adjoining square, you'll find a monument of the winged Erote from the same period.
It's interesting to imagine the time when the church and the square would have been full of bustling crowds coming for public meetings or making their way through to the markets. Still, St. Stephen's Cathedral is a beautiful oasis of silence and contemplation.
Visit
St. Stephen's Cathedral