Take a ride
You don't need to walk through Goslar to discover its highlights, with these fun options to explore the town.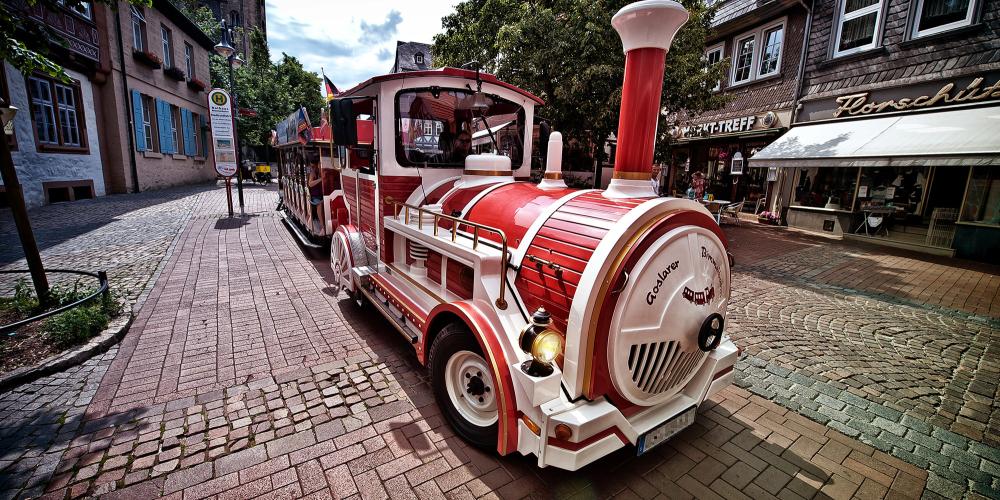 There are two interesting and fun ways to explore the Old Town without needing to take a step - by horse or by train.
The horse-drawn carriages carry you slowly at two horsepower through the main sights in town like the Market-Square, the Schuhhof (the oldest square in town), the Great Holy Cross, the Siemenshouse and many more. While you sit back and relax and listen to the anecdotes of the coachman, you can immerse yourself in the town's thousand year history.
When the weather is chilly, cuddly blankets are offered. From the end of March to the end of October the horse-drawn carriage can be booked daily from 11 am. The tour takes about 30 minutes.
You might also like to explore Goslar with the Choo Choo Train. For visitors wanting to get a first and quick overall impression of the town, this ride on the electro-powered people mover is a good way to get to know Goslar. The tour begins at the Market Square and winds through the streets of town. The duration of the tour is about 30 minutes and it runs from Easter until October, and during the Christmas Market. Tickets can be bought directly on the train.
Visit
Take a ride
Pricing
Horse-drawn carriage:
Adults: € 5,50
Children: 2-12 years € 2
Tickets are available from the coachman.
---
Choo Choo Train:
Adults: €6,50
Children: € 3,00