The Art Deco stadium-park and swimming pool at Bruay-La-Buissière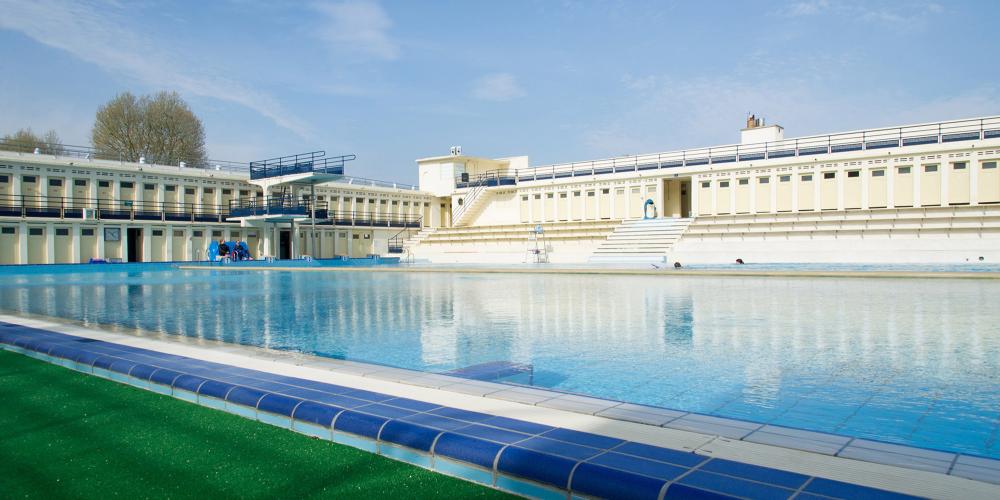 When the powers of the local authorities compete with the powers of a mining company using architectural prowess, it can give the best results! Built in the 1930s at the initiative of the municipality and in line with the social ideas of the Popular Front, the stadium-park and swimming pool replicate the grand edifices of the Bruay Mining Company, with real panache! So, come and immerse yourself in Art Deco, swimming in a historical monument or playing bowls in the bowling alley, living, laughing and eating surrounded by Art Deco ceramic tiles.
In the 1930s, Art Deco evolved towards a more pared-down style, "Streamline Moderne" drawing inspiration from the architecture of steam liners. The swimming pool is a perfect and beautiful example. It evokes a large, immobile but lively steam liner, as sleek as the proud transatlantic ships of the inter-war period. The cabin alignments and vanishing lines enthral many a student in architecture. Its sober and joyful colours and surprising modernity provide an interesting and popular backdrop to photographs of fashion collections. Yet this is not just a chic and trendy place, it is above all a place full of life. Jump into the pool and enjoy the pleasure of warm water, at 28° Celsius, or play the dare devil from the five-metre-high diving board.
You can also run in the stadium-park, renovated to its former glory. Jogging here is more intense than anywhere else and the bowls matches are an endless joy. Time has not stopped here, but the place lives with the same communicative joy as it did in the 1930s.
Visit
The Art Deco stadium-park and swimming pool at Bruay-La-Buissière