The Palace of Projects
A variety of works characterise Zollverein an art venue. The UNESCO World Heritage site has been transformed into a space that captures the minds of visitors and artists alike.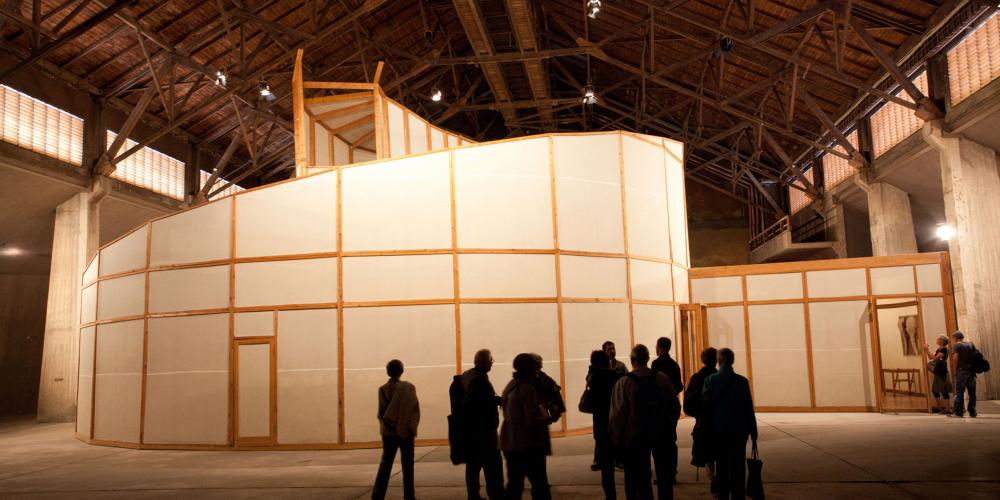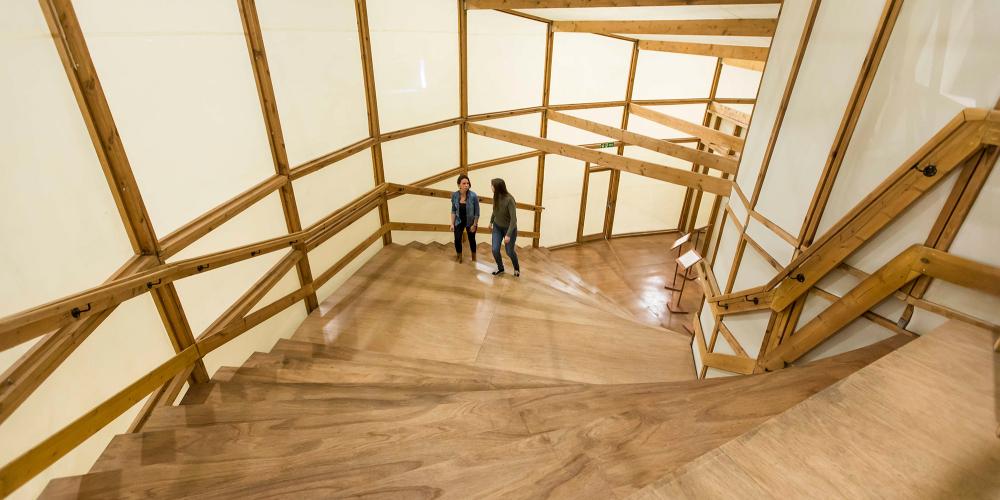 This unique industrial architecture and Zollverein's vivid history fascinate artists from all over the world. While strolling the grounds, visitors encounter sculptures and installations by artists for whom the site, and its industrial past, served as a multifaceted source of inspiration. Some of the works of art cannot be missed, due to their massive appearance. Others are discovered by chance, for example the "Palace of Projects" by Ilya and Emilia Kabakov in the former Salt Store of the Zollverein Coking Plant.
In 2001, the Salt Store was converted into an exhibition and event space and has since accommodated an installation that is around seven-metres high and 23-metres wide. The two-storey, wooden construction has a spiral structure and is covered with ivory-coloured plastic fabric and divided into several rooms. The floor plan is reminiscent of a snail shell. Spotlights illuminate the pavilion from the outside. Warm yellow light in the otherwise dark Salt Store creates an extraordinary atmosphere.
Visitors enter a shining "house in the house." Inside, they will discover 61 individual projects that present ideas and dreams for improving the world. Moving past various objects, showcases, and sketches, the total installation invites travellers to take a journey into unfamiliar worlds of thought, and stimulates the imagination while inspiring creativity. At tables and chairs, visitors have the opportunity to read explanations and take in the objects.
Visit
The Palace of Projects
Hours
Friday –Sunday and holidays: 11:00 - 17:00
Closed on Christmas Eve, Christmas Day and New Year´s Eve.
Pricing
€ 4.00 (reduced € 3.00), free for children under the age of 12.