The Palm House
The Palm House was constructed in 1844 by Richard Turner to Decimus Burton's designs to provide a home for the tropical plants that Victorian explorers brought back from their adventures in the tropics.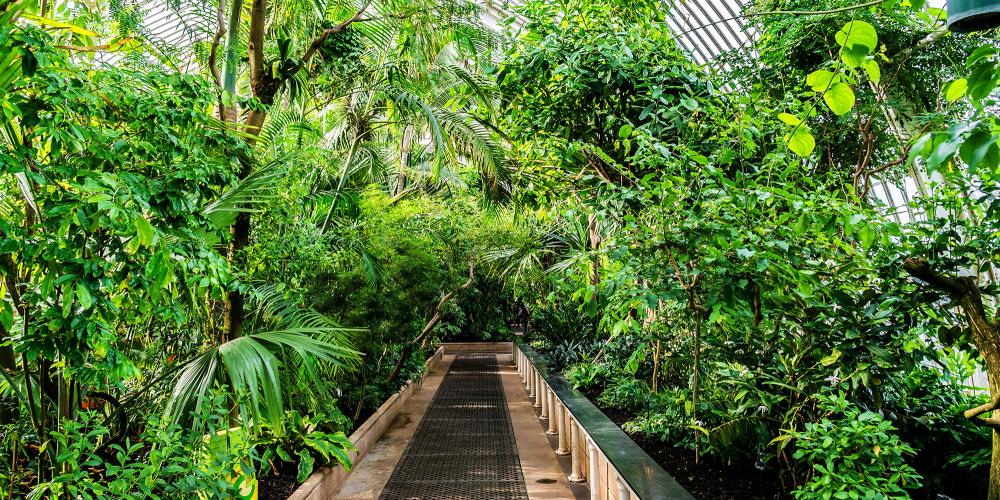 No one had ever built a glasshouse on this scale before and to do so the architects borrowed techniques from the ship building industry which may explain why the Palm House looks like the upturned hull of a ship. Today the Palm House is one of Kew's most recognisable buildings having gained iconic status as the world's most important surviving Victorian glass and iron structure.
The Palm House recreates a rainforest climate, a living laboratory supporting a unique and diverse collection of tropical plants from some of the most threatened environments on Earth, all under one roof. The plantings simulate this multi-layered habitat, with canopy palms and other trees, climbers and epiphytes down to the shorter understorey plants and dwarf palms.
Many plants in this collection are endangered in the wild, some even extinct. There are many species here studied by Kew scientists for research into medicines. Others are of great economic importance, grown for yields of fruit, timber, spices and medicines.
Look out for the Rubber tree (Hevea brasiliensis), African oil palm (Elaeis guineensis),  Coffee (Coffea), Pepper (Piper nigrum), and Sugar cane (Saccharum officinarum) and a Cocoa tree (Theobroma cacao).  The edible properties of Theobroma cacao were discovered over 2,000 years ago by the local people of Central America living deep in the tropical rainforests. In the year 2008-2009 world cocoa production was 3,515,000 tonnes. This is equivalent to the weight of a line of double-decker buses stretching more than three times the length of Britain.