The Romantic Burg Rheinstein
For more than 40 years, the Hecher family has owned and managed the "Burg Rheinstein" – one of the Rhine's most iconic romantic castles. This enchanting castle is a must-visit attraction on the Rhine.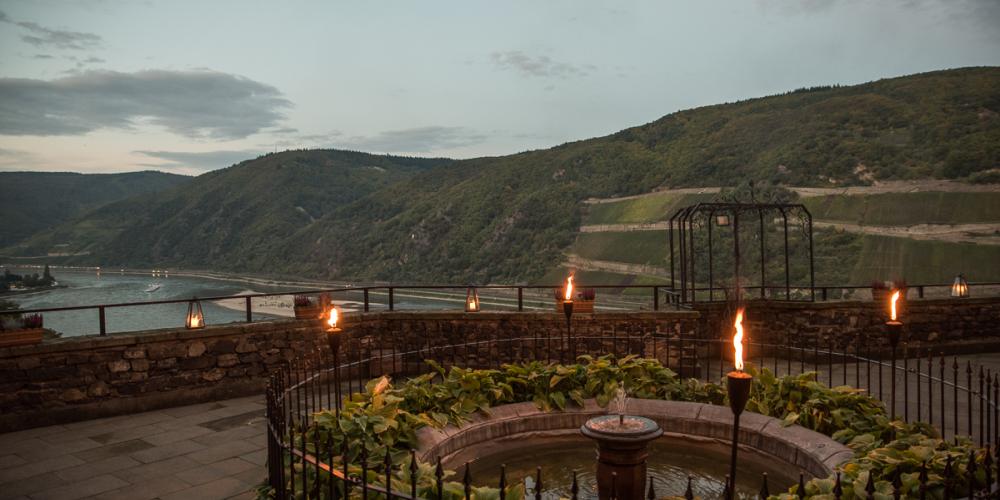 A Short History of the Castle
The castle "Burg Rheinstein" is located around 5km westward of Bingen, down the river Rhine, at the south entrance of the Middle-Rhine Valley, facing the village of Assmannshausen. The castle is a symbol of the Romanticism period in the 19th century, with an impressive location and eventful history.
The roots of the castle date back to the late 13th century. The archbishop of Mainz first built it as a customs castle, as well as a means to secure the territory of Mainz in the fight against robber knights. Its zenith was from the 13th to 16th century, and the castle later fell into ruin around the 17th century. In 1823, Prince Friedrich Wilhelm of Prussia acquired the ruins and it was rebuilt in the style of the Romanticism.
This saw the first romantic castle garden arise at a castle on the Middle-Rhine. Due to constant succession, the castle remained in property of the Hohenzollern family up to 1975. On 7 November, 1975, the opera singer Hermann Hecher purchased the castle to protect its extraordinary cultural heritage. With assistance from the federal state of Rheinland-Pfalz, the Friends' Association of the Castle, and others, the Hecher family was able to bring the "Schlösschen Rheinstein" back from its 'Sleeping Beauty' status and establish it as a living cultural monument for the public to enjoy.
How to visit
There are many ways to experience this Romantic Castle. Take your time wandering through the different rooms and feel the spirit of the past. Walk through the flowers in the castle's beautiful garden. Try a local 'flammkuchen' or a coffee at the castle's restaurant, while taking in the views of the stunning Rhine river.
For more information on this castle, visit this website.